America′s Foreign Policy Toolkit
1st Edition
Key Institutions and Processes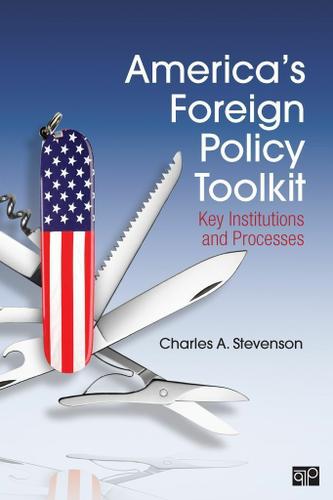 Already purchased in store?
Additional Book Details
How is foreign policy in the United States really crafted? Who does the work? How are the various activites of the many key participants coordinated and controlled? In America′s Foreign Policy Toolkit: Key Institutions and Processes, Charles A. Stevenson identifies for students what the key foreign policy tools are, clarifies which tools are best for which tasks, describes the factors that constrain or push how they′re used, and provides fresh insight into the myriad challenges facing national security decisionmakers. Written in an engaging style with case examples drawn from "behind the scenes," Stevenson brings depth and dimension to the sophisticated pathways and instruments of American foreign policy, from the State Department to the intelligence agencies to the Commerce Department and beyond.
 
In this brief text for American foreign policy and national security courses, Stevenson focuses on the institutions and processes of foreign policy, beginning with a look at the historical context and then looking in turn at the tools available to the president, congress, and the shared budgetary tools. The following part, "Using the Tools," looks at the diplomatic, economic, military, intelligence, homeland security, and international institutions instruments. Stevenson concludes with chapters that consider the important constraints and limitation of the U.S. toolkit. Each chapter ends with a case study that allows readers to connect the theory of the toolkit with the realities of decisionmaking.

Highlights of the text′s coverage include:
A sustained analysis of the U.S. Constitution as a response to security threats in the 1780s, providing a strong historical foundation on and springboard for discussion of this basic document in terms of national security powers; Comprehensive coverage of the congressional role overseeing all other policy instruments, showing Congress as an active player in all aspects of foreign policy; Analysis of the full spectrum of agencies and activities involved in foreign economic policy, covering the numerous organizations involved in foreign economic policy, the weak coordinating mechanisms, and the various processes (sanctions, trade, foreign assistance, direct investment) used as policy tools; A consistent framework for analyzing each instrument (authorities, capabilities, personnel, culture, internal factions, and the role of Congress), which makes comparative analyses of U.S. institutions simple and direct; An illuminating overview of the budget process through both the executive and legislative branches, acknowledging the budget process as a shared policy tool, with conflict and feedback, rather than as a linear process; A discussion of homeland security instruments and international organizations used as policy tools, highlighting the relevance of these new and often overlooked instruments; and A survey of recommendations for reform and the difficulties involved, providing possible explanations of foreign policy failures and alternative organizations and processes.
This must-have text for courses on American foreign policy will be a crucial reference that students will keep on the shelf long after the last class.
| | |
| --- | --- |
| Sold By | SAGE Publications |
| ISBNs | 1452289905, 9781483301815, 9781452289908, 9781608719853, 9781608719853, 1608719855, 9781608719853 |
| Language | eng |
| Number of Pages | 408 |
| Edition | 1st |