Keeping the Republic
10th Edition
Power and Citizenship in American Politics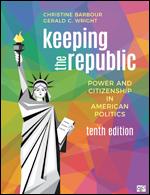 Additional Book Details
Keeping the Republic gives students the power to
examine the narrative of what′s going on in American politics, distinguish fact from fiction and balance from bias, and influence the message through informed citizenship. Keeping the Republic draws students into the study of American politics, showing them how to think critically about "who gets what, and how" while exploring the twin themes of power and citizenship.
The thoroughly updated Tenth Edition considers the influences of today's technology and social media on politics and civic engagement. With the communication of ideas and information easier than ever, it's increasingly challenging to filter through all the voices and biases to assess the facts and find balance. Throughout the text and its features, authors Christine Barbour and Gerald C. Wright show students how to effectively apply the critical thinking skills they develop to the political information they encounter every day. Students are challenged to deconstruct prevailing political narratives and effectively harness the political power of the information age for themselves.
New content analyzes not only the 2020 election results and Supreme Court rulings, but also examines the activism of the Black Lives Matter movement, political outsiders in campaigns and party nominations, the federal government′s response to the COVID-19 pandemic, and the presidency of Donald Trump. With students living through one of the most challenging periods in American life, Keeping the Republic, Tenth Edition, is there to be a much-needed resource to help them make sense of politics in America today and become savvy consumers of political information.
This title is accompanied by a complete teaching and learning package. Digital Option / Courseware
SAGE Vantage is an intuitive digital platform that delivers this text's content and course materials in a learning experience that offers auto-graded assignments and interactive multimedia tools, all carefully designed to ignite student engagement and drive critical thinking. Built with you and your students in mind, it offers simple course set-up and enables students to better prepare for class.
Assignable Video with Assessment
Assignable video (available with SAGE Vantage) is tied to learning objectives and curated exclusively for this text to bring concepts to life.
LMS Cartridge: Import this title's instructor resources into your school's learning management system (LMS) and save time. Don't use an LMS? You can still access all of the same online resources for this title via the password-protected Instructor Resource Site. CQ Press Lecture Spark: Designed to save you time and ignite student engagement, these free weekly lecture launchers focus on current event topics tied to key concepts in American Government.
| | |
| --- | --- |
| ISBNs | 1544393687, 9781544393681, 9781544393728, 9781544393728 |
| Language | English |
| Number of Pages | 744 |
| Edition | 10th |