Doing Qualitative Research
5th Edition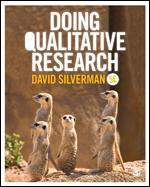 Additional Book Details
With expert advice from the author and real-life experiences from students, this book shows you how to go from the ideas of research to the practicalities of designing, conducting, and writing about your research yourself.
What's new in this edition:
·         Fully interactive digital field guide including video tutorials and real data to practice with
·         An improved structure that takes you step-by-step form start to finish 
·         An overview and practical guidance on mixed methods and working with different kinds of data


The free digital field guide secures its place as the 'take this everywhere' textbook that supports students both in the classroom and in the field providing access via tablet/phone/laptop for easy access to:

    - A readymade bibliography of qualitative research contained in SAGE journal articles curated by the author, to enrich reading and offer top research articles to cite;

    - Definitions to explain key concepts and methods to deepen understanding of what is discussed in the text;

    - David′s quick, practical video tips and instructional guidance for when students are in the field (or preparing to go into it). David steps in as an instant supervisor to give encouragement and avoid common pitfalls;

    - A treasure chest of online resources and weblinks chosen by David offering expert guidance on how to do research and do it better. These include research websites and resources as well as insider guides from trusted experts, links to organizations/software, online text/articles;

    - Datasets provide students with research data on which to practice organizing, analysing, and drawing conclusions;
    -′Cheat sheets′ and reflective trackers students can use to monitor their progress and plan and manage projects.
*Interactivity only available through Vitalsource eBook included as part of paperback product (ISBN 9781526441614).
Access not guaranteed on second-hand copies (as access code may have previously been redeemed).


| | |
| --- | --- |
| Sold By | SAGE Publications |
| ISBNs | 9781473966994, 9781473966994, 9781473966987, 9781473966987, 9781526416841, 9781526416865, 1526416840 |
| Language | English |
| Number of Pages | 633 |
| Edition | 5th |