Reflexive Methodology
3rd Edition
New Vistas for Qualitative Research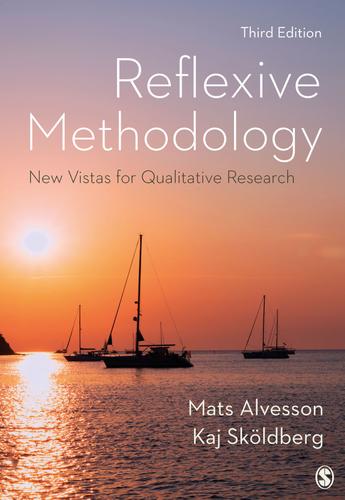 Additional Book Details
Praise for the Second Edition:



 "In opposition to most literature on how to conduct good social science research which is either empirically oriented or gives priority to theoretical and philosophical considerations, which tends to make empirical research look odd or irrelevant, this volume on ′Reflexive Methodology′ explicitly turns towards a consideration of the perceptual, cognitive, theoretical, linguistic, political and cultural circumstances as backdrop of data interpretation and research design. It showed up to be the most important and informative resource and a source of enlightenment to my lecture on methodology at our institute. I can highly recommend the volume to lecturers and students alike."
Professor Sabine Troeger,
Geography Institute - Library, University of Bonn


Reflexivity is an essential part of the research process. Mats Alvesson and Kaj Sköldberg make explicit the links between techniques used in empirical research and different research traditions, giving a theoretically informed approach to qualitative research. The authors provide balanced reviews and critiques of the major schools of grounded theory, ethnography, hermeneutics, critical theory, postmodernism and poststructuralism, discourse analysis, genealogy and feminism. Useful reading for students and researchers across the social sciences.
The first edition established itself as a ground-breaking success, providing researchers with an invaluable guide to a central problem in research methodology - namely, how to put field research and interpretations in perspective, paying attention to the interpretive, political and rhetorical nature of empirical research.  The second edition introduced a new chapter on positivism,  social constructionism and critical realism, and offered new conclusions on the applications of methodology.
This third edition of Reflexive Methodology provides further updates on new research, including neorealism, and illustrations and applications of reflexive methodology in formulating research strategies, that build on the acclaimed and successful previous editions
| | |
| --- | --- |
| Sold By | SAGE Publications |
| ISBNs | 9781473964242, 9781473964235, 9781473964242, 9781473964235, 9781526428851, 9781526428868, 1526428857 |
| Language | English |
| Number of Pages | 456 |
| Edition | 3rd |