Encyclopedia of Transnational Crime and Justice
1st Edition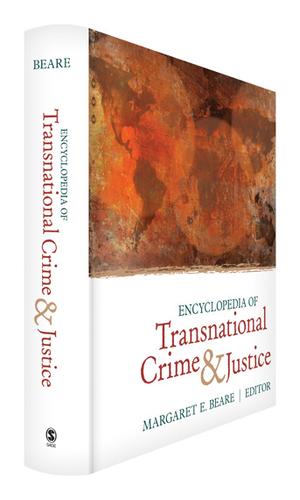 Additional Book Details
Transnational crimes involve border crossings as an integral part of the criminal activity. They also include crimes that take place in one country with consequences that significantly affect other countries. Examples include human trafficking, smuggling (arms, drugs, currency), sex slavery, non-domestic terrorism, and financial crimes. Transnational organized crime refers specifically to transnational crime carried out by organized crime syndicates. Although several encyclopedias cover aspects of transnational crime, it is this encyclopedia′s emphasis on transnational justice, as well, that differentiates it from the pack. Not only do we define, describe, and chart the crimes and criminal activity, we also will include significant coverage of policing those crimes and prosecuting them within domestic and international court systems. Accessible and jargon-free and available in both print and electronic formats, the one-volume Encyclopedia of Transnational Crime and Justice will contain such entries as arms smuggling, art fraud, charity fraud, hacking and computer viruses, copyright infringement, counterfeiting, drug smuggling, extradition, human trafficking, intelligence agencies, international banking laws, Internet scams, Interpol, money laundering, pollution and waste disposal, price fixing, prosecution, sanctions, sex slavery, tax evasion, terrorism, war crimes, the World Court, and more.

Features & Benefits:

150 signed entries (each with Cross References and Further Readings) are organized in A-to-Z fashion to give students easy access to the full range of topics in transnational crime and justice.A thematic Reader′s Guide in the front matter groups entries by broad topical or thematic areas to make it easy for users to find related entries at a glance.In the electronic version, the Reader′s Guide combines with a detailed Index and the Cross References to provide users with convenient search-and-browse capacities.A Chronology in the back matter helps students put individual events into broader historical context.A Glossary provides students with concise definitions of key terms in the field.A Resource Guide to classic books, journals, and web sites (along with the Further Readings accompanying each entry) helps guide students to further resources in their research journeys.An Appendix includes the Congressional Research Service Report on International Terrorism and Transnational Crime.
| | |
| --- | --- |
| Sold By | SAGE Publications |
| ISBNs | 9781412990776, 9781412990776, 1412990785, 9781412990783 |
| Language | English |
| Number of Pages | 545 |
| Edition | 1st |