Making Great Kids Greater
1st Edition
Easing the Burden of Being Gifted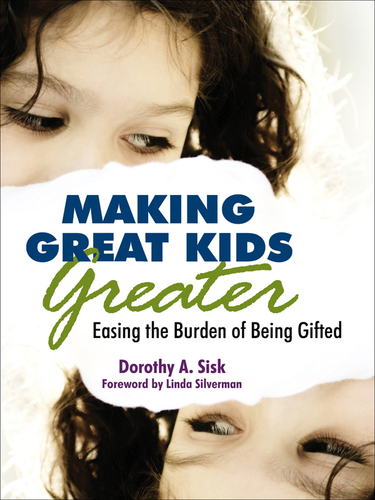 Additional Book Details
"Dorothy Sisk is a venerable giant in the field of gifted education. Teachers will find this volume a gold mine of effective classroom strategies to develop the affective domain. Anyone interested in the emotional development of the gifted will be delighted by this book."
—From the Foreword by Linda Silverman
"Seamlessly weaves together research studies with personal narrative to illuminate the complex inner world of gifted students. The book explores not only the unique sensitivities and social-emotional challenges of the gifted, but also their deep empathy, intuitiveness, and keen awareness of the moral and spiritual realm."
—Joan Franklin Smutny, Director
The Center for Gifted, National-Louis University
Empower gifted students by helping them understand and value their gifts!
Gifted students often develop faster intellectually than socially and emotionally, resulting in feelings of isolation or inadequacy. This book provides educators with a window into the world of the gifted child, discusses how to develop the talents of gifted children with consideration for their unique needs, and suggests ways to help great kids become greater.
Written by gifted education expert Dorothy A. Sisk, this practical resource offers techniques, strategies, and lessons to help gifted students bridge the gap between their cognitive and social-emotional development. Showing how to support learners who may experience difficulties associated with excitabilities identified by psychologist Kazimierz Dabrowski, this resource:
Presents real stories of gifted students Includes teacher voices and vignettesIntegrates research into each chapter to build a foundation for the suggested activities and strategiesProvides recommended reading lists and Web sites for further exploration
Making Great Kids Greater helps parents, teachers, and counselors of gifted children ensure students′ emotional well-being and enable them to reach their full potential.
| | |
| --- | --- |
| Sold By | SAGE Publications |
| ISBNs | 1452280495, 9781452211589, 9781412958721, 9781452280493, 9781412958714, 9781412958714, 9781412958721, 9781412958721 |
| Language | English |
| Number of Pages | 176 |
| Edition | 1st |