Encyclopedia of Human Relationships
1st Edition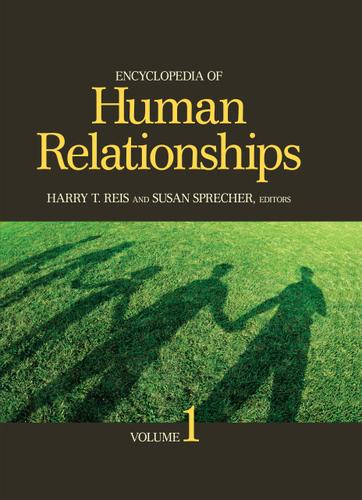 Additional Book Details
Library Journal Best Reference 2009

"An excellent gateway to further examination of any of the subdisciplines of relationship science, or as a research tool in its own right."
—Library Journal

Relationships are fundamental to nearly all domains of human activity, from birth to death. When people participate in healthy, satisfying relationships, they live, work, and learn more effectively. When relationships are distressed or dysfunctional, people are less happy, less healthy, and less productive. Few aspects of human experience have as broad or as deep effects on our lives.
The Encyclopedia of Human Relationships offers an interdisciplinary view of all types of human associations—friends, lovers, spouses, roommates, coworkers, teammates, parents and children, cousins, siblings, acquaintances, neighbors, business associates, and so forth. Although each of these connections is unique in some respect, they share a common core of principles and processes. These three volumes provide a state-of-the-art review of the extensive theories, concepts, and empirical findings about human relationships.
Key Features
Compiles leading-edge information about how people think, feel, and act toward each otherPresents the best in the field—authors who have contributed significant scientific knowledge about personal relationships over the past several decades.Offers a diverse approach to relationship science with contributions from psychology, sociology, communication, family studies, anthropology, physiology, neuroscience, history, economics, and legal studies
Key Themes:
Cognitive Processes in RelationshipsCommunication ProcessesCreating and Maintaining ClosenessDating, Courtship, and MarriageThe Dark Side of RelationshipsEmotion Processes in RelationshipsFamilyFriendship and Caregiving in AdulthoodHealth and the Biology of RelationshipsMethods for Studying RelationshipsPersonality and Individual DifferencesPrevention and Repair of Relationship ProblemsPsychological ProcessesSexualitySocial Context of RelationshipsSocial Relations in Childhood and AdolescenceTheoretical Approaches to Studying RelationshipsTypes of Relationships
Our relationships influence virtually all aspects of our everyday existence and are of deep interest to students, researchers, academics, and laypeople alike. This Encyclopedia is an invaluable addition to any academic or public library.
| | |
| --- | --- |
| Sold By | SAGE Publications |
| ISBNs | 9781412958462, 9781412958462, 1506320406, 9781506320403 |
| Language | English |
| Number of Pages | 1904 |
| Edition | 1st |