The Vertigo of Late Modernity
1st Edition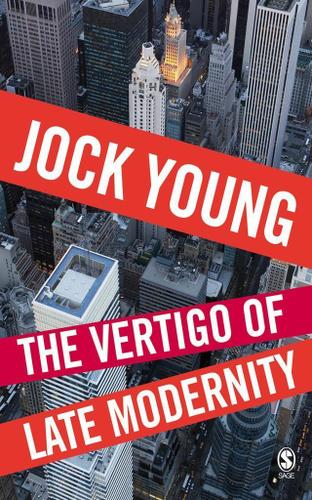 Already purchased in store?
Additional Book Details
′Immersing himself in the whirling uncertainty of late modernity, confronting its odd deformities of essentialism and exclusion, Jock Young has produced a comprehensive account of contemporary trouble, anxiety, and transgression. If this is criminology-and it′s surely criminology of the best sort-it is a criminology able to account not just for crime and inequality, but for the cultural and the economic, for the existential and the ontological as well. Perhaps most importantly, it is a criminology designed to discover in these intersecting social dynamics real possibilities for critique, hope, and human transformation. Jock Young′s The Vertigo of Late Modernity is a work of sweeping-dare I say, dizzying-intellect and imagination.′
- Professor Jeff Ferrell, Texas Christian University, USA, and University of Kent, UK
′This is precisely what readers would expect from the author of two instant classics: a book that is bound to become the third. As is his habit, Jock Young launches a frontal attack on the ′commonsense′ of social studies and its tacit assumptions - as common as they are misleading. Futility of the ′inclusion vs exclusion′, ′contented vs insecure′, or indeed ′normal vs deviant′ oppositions in the globalised and mediatized world is exposed and the subtle yet thorough interpenetration of cultures and porosity of boundaries demonstrated beyond reasonable doubt. The newly coined analytical categories, like chaos of rewards and chaos of identity, existential vertigo, bulimic society or conservative vs liberal modes of othering are bound to become an indispensable part of social scientific vernacular - and let′s hope that they will, for the sanity and relevance of the social sciences′ sake′
- Zygmunt Bauman, Emeritus Professor of Sociology, University of Leeds
′Jock Young is one of the great figures in the history of criminology. In this book he prises open paradoxes of identity in late modernity. We experience an emphasis on individualism in an era when shallow soil forms a foundation for self-development. Young deftly analyses shifts in conditions of work and consumption and the insecurities they engender. This is a perceptive reformulation of job, family and community in late modernity′
- Professor John Braithwaite, Australian National University
The Vertigo of Late Modernity is a seminal new work by Jock Young, author of the bestselling and highly influential book, The Exclusive Society.
In his new work Young describes the sources of late modern vertigo as twofold: insecurities of status and of economic position. He explores the notion of an underclass and its detachment from the class structure. The book engages with the ways in which modern society attempts to explain deviant behaviour - whether it be crime, terrorism or riots - in terms of motivations and desires separate and distinct from those of the ′normal′. Young critiques the process of othering whether of a liberal or conservative variety, and develops a theory of ′vertigo′ to characterise a late modern world filled with inequality and division. He points toward a transformative politics which tackle problems of economic injustice and build and cherish a society of genuine diversity.
This major new work engages with some of the most important issues facing society today. The Vertigo of Late Modernity is essential reading for academics and advanced students in the areas of criminology, sociology, cultural studies, anthropology and the social sciences more broadly.
| | |
| --- | --- |
| Sold By | SAGE Publications |
| ISBNs | 9781412935746, 1412935741, 1412935733, 9781412935739, 9781446238943, 1446238946 |
| Language | eng |
| Number of Pages | 240 |
| Edition | 1st |