Social Work
1st Edition
A Companion to Learning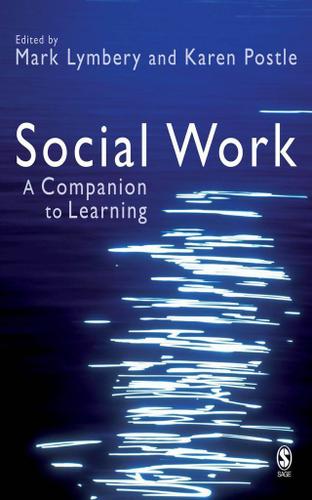 Already purchased in store?
Additional Book Details
′This engaging and stimulating book is well placed to become a key text in many student social workers′ redaing lists′ - Journal of Interprofessional Care
`[An] excellent book, abounding with conceptual insights, bursting with research and evidence-based reasoning, and pretty comprehensive in the spread of topics. [It] contains plenty of though-provoking material in nice sized chunks that challenged me to think about my practice in different ways and also made me want to find out more. The range of contributors is impressive and students could do a lot worse than digest and reference their work in assignments′ - Professional Social Work
`a comprehensive account of the issues related to social workers′ personal development and latest developments in social work practice. I have no doubt that this book will provide an invaluable reference guide for social workers who are interested in the development of the profession′ - Social Policy and Social Work (SWAP)
`[This] book is put together in an accessible and engaging way, which serves to stimulate the reader by posing questions, and creating opportunities for reflecting on the key learning points of each chapter. [It] should be an essential reading item on the book list of every social work student and act as a training resource to those training future social workers, and those already established within the profession′ - Health & Social Care in the Community
`In recent years, social work has been devalued by politicians and the media. However it requires practitioners equipped with key skills to empower individuals and communities and rooted in values which stimulate them to promote social justice. It is heartening that social work educators are at the forefront of equipping social workers with the skills and values to promote a better society. This book will open hearts and minds to achieve these ends′ - Bob Holman, former Community Worker and Professor of Social Policy
Social Work: A Companion to Learning is an exciting and definitive new book that will equip readers with the core knowledge and skills they need to successfully complete their social work training, and go on to be an effective practitioner. The text takes a holistic and critical approach, not only enabling students and practitioners to understand how to practise social work effectively, but also how to locate this practice within its societal context.
Written and edited by leading experts in the field, each chapter skilfully explores key themes, issues, and concepts underpinning social work theory and practice in an engaging, authoritative and accessible way. The selection of topics serves to establish:
- the contexts through which social work education can best be understood
- the core requirements and processes that characterise social work courses
- the issues involved in continuing professional development.
The chapters comprise a wide range of key issues, such as communication skills, partnership working, the values of social work, supervision, management, law, and research mindedness, as well as two unique chapters written exclusively from service users′ perspectives.
Case studies, interactive questions, key points and further reading sections are used throughout the book to bring the material to life and aid readers′ understanding. Social Work: A Companion to Learning will be a core text for students and practitioners at all levels, providing the most up-to-date and comprehensive companion they will need to help them progress in their careers.
Mark Lymbery has taught social work at the University of Nottingham since 1995. He is the author of Social Work with Older People (2005), also published by SAGE. Karen Postle is a lecturer in social work at the University of East Anglia. Both authors have a background as social work practitioners.
| | |
| --- | --- |
| Sold By | SAGE Publications |
| ISBNs | 9781412920025, 9781412920025, 9781412920025, 9781412920018, 9781412920018, 9781446236772, 9781848607385, 1446236773 |
| Language | eng |
| Number of Pages | 320 |
| Edition | 1st |