American Government
3rd Edition
Stories of a Nation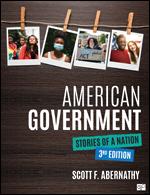 Additional Book Details
"The main strength of this book is that it presents a 'human' side to American Government that challenges students to think critically while still presenting the 'teaching' side with objectives, self-tests, and chapter reviews."
—Kathleen Barrett, University of West Georgia

In the Third Edition of American Government: Stories of a Nation, author Scott F. Abernathy tunes in to the voices of all Americans, showing how our diverse ideas shape the way we participate and behave, the laws we live by, and the challenges we face. From the Constitutional Convention to the 2020 presidential election, each chapter features rich, personal narratives that illustrate how the American political system is the product of strategies, calculations, and miscalculations of countless individuals. It focuses on real people, the actions they take, the struggles they face, and how their choices influence outcomes. The key concepts are memorable because they are tied to real politics, where students see political action and political choices shaping how institutions advance or impede the fulfillment of fundamental ideas. Participation is at the heart of this groundbreaking new text, with ample background on how we participate and why. Not only will all students see themselves reflected in the pages, but they will come to understand that they, too, are strategic players in American politics, with voices that matter.

Digital Option / Courseware
SAGE Vantage is an intuitive digital platform that delivers this text's content and course materials in a learning experience that offers auto-graded assignments and interactive multimedia tools, all carefully designed to ignite student engagement and drive critical thinking. Built with you and your students in mind, it offers simple course set-up and enables students to better prepare for class.
Assignable Video with Assessment
Assignable video (available with SAGE Vantage) is tied to learning objectives and curated exclusively for this text to bring concepts to life.
LMS Cartridge: Import this title's instructor resources into your school's learning management system (LMS) and save time. Don't use an LMS? You can still access all of the same online resources for this title via the password-protected Instructor Resource Site. CQ Press Lecture Spark: Designed to save you time and ignite student engagement, these free weekly lecture launchers focus on current event topics tied to key concepts in American Government.
| | |
| --- | --- |
| ISBNs | 1071816861, 9781071816868, 9781071816837, 9781071816837 |
| Language | English |
| Number of Pages | 640 |
| Edition | 3rd |