The Narrative Study of Lives
1st Edition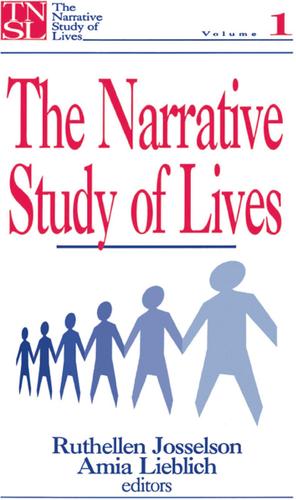 Additional Book Details
"This volume is especially appealing in that it celebrates diversity and embraces disagreement. . . . The narrative scholar, regardless of her/his research tradition or field, will most certainly benefit from the diversity and depth provided in The Narrative Study of Lives. Editors Ruthellen Josselson and Amia Lieblich have admirably fulfilled their criteria of breadth, coherence, and aesthetic appeal for works included in this volume. Moreover, they have provided the necessary forum for the study of lives and life histories. We can only hope to continue the conversation in future volumes."
--Journal of Contemporary Ethnography
"Few questions have a longer, deeper, and livelier intellectual history than how we ′construct′ our lives--and, indeed, how we create ourselves in the process. But it is a question newly alive today, for modern scholarship has brought challenging new perspectives to the study of life writing. Literary theorists, linguists, legal scholars, and even political activists are bringing new and powerful insights to bear. The Narrative Study of Lives provides a needed forum for the debates now in progress and should attract a loyal and numerous band of readers."
--Jerome Bruner, New York University
"For those psychologists searching for new approaches to the study of lives, this volume takes an important step toward the editors′ promise of filling this gaping hole in psychology."
--The Journal of Nervous and Mental Disease
How do we derive concepts from stories and then use these concepts to understand people? What would have to be added to transform story material from the journalistic or literary to the academic and theoretically-enriching? Addressing these and other such issues as the interface between life as lived and the social times, this group of distinguished contributors from six different countries and four different disciplines explores this emerging new field. Beginning with the philosophical framework that underlies the study of narrative, the book covers such questions as: What makes people want to preserve the stories of their past? What methods can be used to deconstruct a narrative text? Can what we learn from people′s narratives of their past be used to account for their current psychological functioning? What happens if people lose their ability to narrate their story? Can people′s narrative accounts tell us something about identity and its development?
Useful to researchers and students of human development and behavior, The Narrative Study of Lives provides rich stories and
analysis of narrative approaches to life history.
| | |
| --- | --- |
| Sold By | SAGE Publications |
| ISBNs | 9780803948136, 9780803948136, 1506320643, 9781506320649 |
| Language | English |
| Number of Pages | 228 |
| Edition | 1st |