Making Sense of Education Policy
1st Edition
Studies in the Sociology and Politics of Education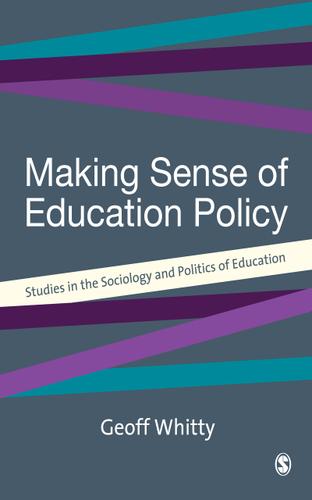 Already purchased in store?
Additional Book Details
`This book is a very worthwhile read for teachers, student teachers and teacher educators. It would be encouraging if politically based policy makers were to digest its contents also′ - Citizenship, Social and Economics Education
`I recommend this book as an enjoyable, thought provoking and politically important read′ - Widenining Participation and Lifelong Learning
`This important book challenges current educational policies in England in a style, for the most part, easily accessible to a wide audience. Geoff Whitty′s assertions are supported by a wide variety of research findings and this is a book that should be of considerable interest to student of sociology and to all member of the teaching profession′ - Mark Pepper, Equals
`The particular strength of this book is Geoff Whitty′s grasp on and insights into the politics of education... he is able to bring to bear an authoritative perspective which is unrivaled in the United Kingdom. there is no other current book which compares in terms of the breadth and depth of this′ - Professor Stephen Ball, Institute of Education, University of London
`This book represents a "struggle" by the director of the London Institute of Education, one of our foremost centres of teacher training and research in education, to understand what lies behind the education policies of recent governments. It is tempting to conclude that if a leading educational sociologist such as Geoff Whitty, who happens also to be brother of the former general secretary of the Labour party, has difficulty with this, there can be little hope for the rest of us. But now, at least, we have this personal odyssey to guide us′ - Bob Doe, Times Educational Supplement
This book aims to make sense of the changes in education policy over the past decade, using the resources of the sociology and politics of education. The author shows that wider sociological perspectives can help us to appreciate both the limits and the possibilities of educational change.
Geoff Whitty illustrates this through studies of curriculum innovation, school choice, teacher professionalism and school improvement. He considers how far education policy can be used to foster social inclusion and social justice and the book concludes with an assessment of New Labour education policy in these terms. The book deals with education policy in England and Wales, as well as making comparisons with contemporary education policy in other countries.
This book is relevant to students of education at masters and doctoral levels, students of social policy, and policy-makers.
| | |
| --- | --- |
| Sold By | SAGE Publications |
| ISBNs | 9781446231791, 9780761974529, 0761974520, 9780761974512, 9780761974529, 1446231798 |
| Language | eng |
| Number of Pages | 168 |
| Edition | 1st |