Educational Leadership
1st Edition
Ambiguity, Professionals and Managerialism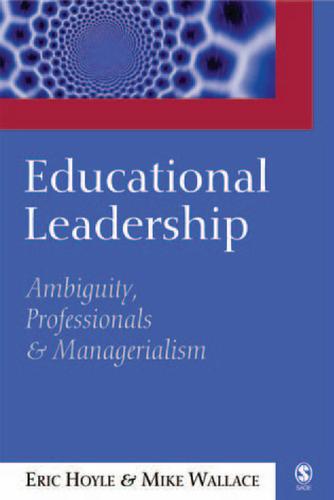 Already purchased in store?
Additional Book Details
′Hoyle and Wallace illustrate with penetrating insight the perverse outcome of tightening management and leadership so much that it leads to three different forms, each with the same five characteristics, of what they call "managerialism": excessive micromanagement of schools in a sometimes futile and self-defeating quest for success′ - Tim Brighouse, Times Educational Supplement
`This book is an excellent read about management and leadership in schools. Overall, I felt that this book makes a positive contribution to the debate about the impact of managerialism within public services. I liked the elements that made up the ironic orientation (scepticism, pragmatism and contingency), recognising them in my own experiences in Higher Education, and I liked the way in which the concept of irony was linked to some key concerns as well as positive practices. This is a book that I would thoroughly recommend to anyone interested in leadership and management in schools, but given its broader application, I would also recommend the book to anyone interested in leadership and management in the public sector′ - ESCalate
Read the full review as posted on the ESCalate website, the Education Subject Centre for the Higher Education Academy
′Eric Hoyle and Mike Wallace are two of the best known writers on educational leadership and management. They have made very significant contributions to organisational theory and its application to education for four decades. This book′s focus on ambiguity and irony provides a welcome and timely contrast to the rational assumptions and managerialism which underpin government policy and much academic writing in this field′ - Professor Tony Bush, International Educational Leadership Centre, University of Lincoln
′They have brought to centre-stage ideas and concepts which have largely been peripheral in the field, and in doing so have made us look with new lenses at what we need to say about professional work and identity. It has therefore performed a valuable and much needed service, and will provide a major reference point in debates about the future of the education profession′ - Mike Bottery, Educational Management, Administration & Leadership
′This in an important book. I wish I had written it, indeed I wish I had the skill, the knowledge and the wit to write it′ - Mark Brundrett, Educational Management, Administration & Leadership
Why do efforts to improve the quality of education via organizational leadership and management make matters worse in some respects as well as better? In what ways are education professionals responding to such efforts? The authors of this highly original book develop an ironic perspective for analysing the ambiguities and unintended consequences of well-intentioned actions in organizational life, and how these are exacerbated by change.
Focusing on school leadership and management, Hoyle and Wallace suggest that major reforms have had limited success because the changes introduced have diverted school staff from their core task of promoting student learning, resulting in dissatisfaction, frustration and stress. They argue that a more temperate approach to leadership and management supported by wise policy-making can create structures that take the strain and reduce stress, encourage autonomy while accepting associated risks, and sponsor moderate experimentation and innovation emerging from communities of professional practice.
Educational Leadership and Organizational Irony is essential reading for all concerned with improving education: advanced course students, leaders and managers, trainers, administrators, policy-makers and academics. It also offers insights for the study of public service and business organizations.
| | |
| --- | --- |
| Sold By | SAGE Publications |
| ISBNs | 9780761967439, 9780761967422, 9780761967439, 1446227243, 9781446227244, 1446227243 |
| Language | eng |
| Number of Pages | 224 |
| Edition | 1st |