Fables, Fashions, and Facts About Advertising
1st Edition
A Study of 28 Enduring Myths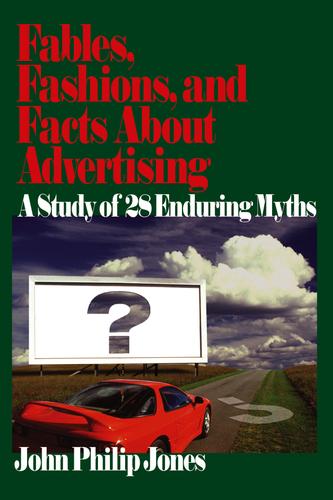 Additional Book Details
"The book makes an interesting and substantive contribution to the field of advertising directly, and also to the entire field of marketing communications or promotion. John Philip Jones presents a new and informed perspective that supports and underpins the need for advertising that works rather than emotive rhetoric that obscures its purpose and function."

                                                                      --Philip J. Kitchen, University of Hull, U.K.

"This is a much needed text that puts misinformation to rest with strong evidence to disprove it. Most texts simply show how ads are developed, media plans are implemented, and lots of beautiful advertisements. This book shows how advertising can be and should be effective."

                                                                           --Jan S. Slater, Ph.D., Ohio University

The workings of advertising have always remained a bit of a mystery; until about 1960 virtually nothing of the effectiveness of advertising was known. There was even some doubt about whether advertising worked at all. In the absence of facts, theories were developed up to fill the vacuum. These were soon developed into doctrines, which became widely followed—fables that became fashions. Not many of these theories were ever subjected to harsh scrutiny based on factual knowledge, mainly because there was not much factual knowledge available until recently.
John Philip Jones, bestselling author and internationally known advertising scholar, has written a textbook to help evaluate these advertising "fables" and "fashions," and also to study the facts. He uses the patterns and trends revealed by the accumulations of data from cutting-edge research to illustrate the occasional incompleteness, inadequacy, and in some cases total wrongheadedness of these fables and fashions. Each chapter then attempts to describe one aspect of how advertising really works.

Unlike most other advertising textbooks, Fables, Fashions, and Facts About Advertising is not written as a "how to" text, or as a vehicle for war stories, or as a sales pitch. Instead, it is a book that concentrates solely on describing how advertising works. Written to be accessible to the general public with little or no experience studying advertising, it makes the scholarship of an internationally renowned figure accessible to students taking beginning advertising courses.

Fables, Fashions, and Facts About Advertising is ideal as a core or supplemental text for courses in marketing, communication, journalism, and related disciplines. This volume should also be useful to the tens-of-thousands of business people whose careers are directly or indirectly concerned with advertising.
| | |
| --- | --- |
| Sold By | SAGE Publications |
| ISBNs | 9780761927990, 9780761927990, 9780761927990, 9781452236834, 9781452222097, 1452236836 |
| Language | English |
| Number of Pages | 328 |
| Edition | 1st |