Evaluation Strategies for Communicating and Reporting
2nd Edition
Enhancing Learning in Organizations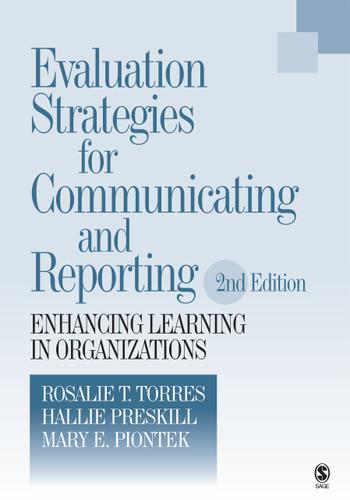 Additional Book Details
"Rosalie Torres, Hallie Preskill and Mary Piontek have furnished a text that is not only thorough, but also easily accessible to both the beginner and the experienced practitioner alike. Not only are they masters at writing with jargon-free clarity, what they have to say demonstrates their apparent underlying methodological grasp of the field. They have succeeded in practicing what they preach."
—John Scougall, Western Australia Institute for Sustainable Technology and Policy at Murdoch University
"[This is] a book that addresses some of the overlooked, taken-for-granted aspects involved with the planning, conducting, and reporting of good evaluation. This book helps evaluators improve the utilization of evaluation results by using an ongoing, integrative collaborative learning approach with project stakeholders. Through the use of collaborative techniques and emphasis on various communicating and reporting formats, evaluators gain knowledge and skills that will assist them in helping organizations learn, grow, and improve."
—Steven R. Aragon, Human Resource Education, University of Illinois at Urbana-Champaign
"This is among the most thorough and practically applicable texts written about communicating and reporting evaluation findings. The additions of the new sections in this edition reflect the changing nature of work-related communication in general, of which evaluators need to be aware and take advantage.  This is a significant contribution to our practice."
—Jennifer Martineau, Center for Creative Leadership
Do your communicating and reporting strategies seem outdated? Are you looking for ways to communicate more effectively? The Second Edition of Evaluation Strategies for Communicating and Reporting: Enhancing Learning in Organizations helps full-time evaluators and those with evaluation responsibilities successfully plan, conduct, communicate, and report the findings of evaluations using creative techniques. This comprehensive book is designed to help evaluators facilitate understanding, learning, and evaluation use among individuals, groups, and organizations by communicating and reporting more effectively. It guides the reader through the phases of an evaluation, from early planning stages through the final reporting and follow-up. 
Evaluation Strategies for Communicating and Reporting has been thoroughly revised and updated creating 75% new material and 34 new case examples. The Second Edition provides worksheets and instructions for creating a detailed communicating and reporting plan based on audience needs and characteristics. Authors Rosalie T. Torres, Hallie Preskill, and Mary E. Piontek cover advances in technology including Web site communications, Web and videoconferencing, and Internet chat rooms. Also mentioned are several additional topics for consideration, including communicating and reporting for diverse audiences and for multi-site evaluations.
This book is intended for graduate program evaluation students in departments of education, public policy, and organizational studies. Managers, researchers, practitioners and anyone responsible for designing, conducting, or managing evaluations will find this book invaluable.
New to this Edition:
New creative coverage of communicating and reporting techniques by way of photography, cartoons, poetry, and drama in formative evaluations New coverage of how to communicate evaluation processes and interim findings to stakeholders during the evaluation New coverage of the use of technology in communicating and reporting evaluations, illustrated with examples, and complimented by guidelines, tips, and cautions for using these high-tech formats Actual examples from well-known evaluators that illustrate various communicating and reporting techniques A recap of how the latest information on learning processes mediates the way that readers and stakeholders assimilate and use information
| | |
| --- | --- |
| Sold By | SAGE Publications |
| ISBNs | 1544334354, 9781544334356, 9780761927549, 9780761927549 |
| Language | English |
| Number of Pages | 384 |
| Edition | 2nd |