The 11 Myths of Media Violence
1st Edition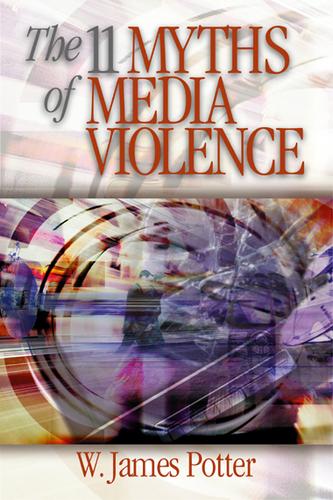 Already purchased in store?
Additional Book Details
"Potter′s The 11 Myths of Media Violence is a groundbreaking, innovative look at a problem that continues to produce controversy even though researchers have been studying it for more than half a century. . . By explicitly describing the various forces that impede public comprehension of the issue, and by organizing the book around 11 central misunderstandings, Potter brilliantly illuminates the thorny issues that surround the media violence debate. His writing is both clear and compelling. Students, researchers, journalists, policy-makers, and parents will enjoy this book and achieve an in-depth understanding of the issues and their implications for society."


-Joanne Cantor, Professor Emerita, University of Wisconsin-Madison and author of Mommy, I′m Scared: How TV and Movies Frighten Children and What We Can Do to Protect Them


"The 11 Myths of Meida Violence is indispensable reading for anyone interested in the issue media violence. Potter′s thought-provoking challenges to arguments that media violence is harmless or benign are clearly articulated, empirically sound, and undeniably essential in our violence-saturated culture. This book is certain to be a primary reference for students, scholars, and policy makers dealing with how best to address the psychological, social, and legal implications of violence in the media."
-Mary Beth Oliver, Penn State University
"It is a wonderful summary of the key issues in this hotly debated area. . . This book is a "must read" for anyone involved in the media violence debate."
-Craig A. Anderson, Iowa State University
"The 11 Myths of Media Violence is a must read for everyone who has ever sat in front of a television. Potter indicts our culture thirsty for a quick fix and simple black and white answers. He reminds us we live in a wonderful world of mystery, complexity and untold shades of gray. I must order more copies of this book for the many friends and cohorts with whom I attempt to discuss the harms of media violence."
-Ann Simonton, Director of Media Watch
"This well-written study adds many fresh perspectives to a continuing social and public policy debate. . . . Highly recommended."
—CHOICE
Violence sells. The media industries say they are simply businesses responding to market desires, but when they are criticized for contributing to a culture of violence, they claim First Amendment protection. If anything, media violence is more prevalent today than at any other time in the past. Yet, although scientific researchers have produced a strong body of evidence demonstrating that exposure to media violence harms society, that evidence has never been translated into practical and accessible ideas.
The 11 Myths of Media Violence clearly explains why media violence has not only been allowed but encouraged to escalate. Esteemed author W. James Potter challenges many of our assumptions about the relationship between media and violence. He argues that these assumptions are the primary barriers preventing us from confronting the issue of violence in films, TV, and video games.
While dispelling misperceptions and evoking emotions, each chapter:
identifies a myth, its origin, its acceptance by the public, and its growth in popularity.
analyzes the faulty nature of the myth and shows how it deflects attention away from the truth.
presents "dilemmas" that challenge readers to reconsider their assumptions.
includes a list of indispensable references.

The 11 Myths of Media Violence provides an in-depth review of how Congress, journalists, and researchers contribute to the problem and raises important questions that place the reader at the heart of the conflict. W. James Potter takes a broad social science approach, presenting technical information in a direct, balanced, and very readable manner.
Students and scholars of Mass Media, Communications, Film, and Sociology will find The 11 Myths of Media Violence inspires passionate discussion and innovative research. Consumer activists, teachers, and families will find it an essential resource and invaluable step toward finding solutions to this critical social issue.
| | |
| --- | --- |
| Sold By | SAGE Publications |
| ISBNs | 9780761927358, 9780761927358, 9780761927358, 9780761927341, 9781506320762, 9781452262925, 1506320767 |
| Language | English |
| Number of Pages | 288 |
| Edition | 1st |