Religion in the Lives of African Americans
1st Edition
Social, Psychological, and Health Perspectives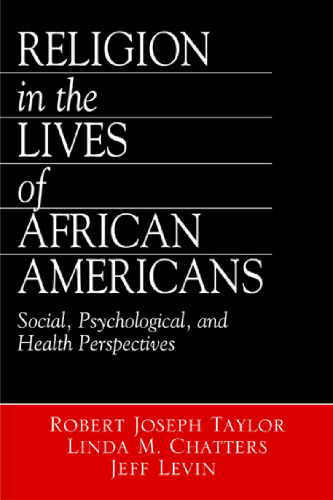 Additional Book Details
"This is an outstanding book that provides the reader with an in-depth understanding of religion in the lives of African Americans. Both historical and empirical research findings provide a context for understanding religion in the lives of African Americans. Most importantly, this book highlights the role religion plays in affecting emotional and physical health processes and outcomes among African Americans. The contributions of this book to the discussion of religion in the social and behavioral sciences will last for years!"

                 --Peggye Dilworth-Anderson, Ph.D., University of North Carolina at Chapel Hill

"This is a blockbuster of a book on black religion. Comprehensive, systematic, analytic, and very well written, it sets a new high water mark in the social scientific study of religion and life in the African American Community. It will be especially helpful in the teaching of undergraduate and graduate courses in African American history and culture."

                                                            --Andrew Billingsley, University of South Carolina

The religious faith of African Americans has many avenues of expression. Consequently, there has been a long-standing interest in the nature, patterns, and functions of religion in the lives of this particular ethnic group. African American religious life, in all its forms, is a vibrant, creative, resourceful testament to the power of faith to uplift and sustain in the face of prejudice, discrimination, and exclusion.

Religion in the Lives of African Americans: Social, Psychological, and Health Perspectives examines many broad issues including the structure and sociodemographic patterns of religious involvement; the relationship between religion and physical and mental health and well-being; the impact of church support and the use of ministers for personal issues; and the role of religion within specific subgroups of the African American population such as women and the elderly. Authors Robert Joseph Taylor, Linda M. Chatters, and Jeff Levin reflect upon current empirical research and derive conclusions from several wide-ranging national surveys, as well as a focus group study of religion and coping.

Features and Benefits:
Empirical. Incorporates findings from a total of eight national surveys that contain representative cross-section samples of the adult Black population living in the continental U.S. Additionally, a focus group study conducted by the Program for Research on Black Americans at the University of Michigan Institute for Social Research, provides a rich source of qualitative information about the nature and functions of religion. Interdisciplinary. Although the primary points of view are sociological and psychological, the perspectives represented by the authors transcend disciplinary bounds. Pedagogical. Includes important data sources, tables, recommendations for further reading and resources, end of chapter summaries, and implications for future research that enhance student comprehension. Recommended for students taking courses in racial and ethnic studies, multicultural and minority studies, black studies, religious studies, psychology, sociology, human development and family studies, gerontology, social work, public health, and nursing.
| | |
| --- | --- |
| Sold By | SAGE Publications |
| ISBNs | 9780761917090, 9780761917083, 9781452263076, 1452263078 |
| Language | English |
| Number of Pages | 321 |
| Edition | 1st |