Dreams, Madness, and Fairy Tales in New Britain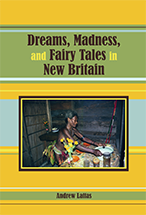 Already purchased in store?
Additional Book Details
This book studies everyday forms of creativity. Comparing ethnography from three rural areas in Papua New Guinea, it analyses popular visions of utopia and dystopia. Distrustful of government promises of development and church expositions of heaven and hell, villagers cultivate their own clandestine versions of hope, of an alternative future, as a way of subverting existing governmental structures and pastoral powers.
Through dreams, visions, rumors, sorcery accusations, cults, myths, and local fairy tales, villagers explore other versions of modernity. They imagine other ways to be Melanesian and other ways to be White. They combine Western and local culture in novel and often startling ways, which are never random or haphazard. Instead, villagers' inventiveness is structured and political. It strives to refigure the possibilities of social change, including contesting how subjects and subjectivities should be formed.
Through sorcery fears and accusations, villagers voice their ambivalence towards modern commerce, urbanization, commodities, Western forms of personhood, and the new social inequalities of race, class, and ethnicity. Just as sorcery has been modernized, so has divination, with villagers incorporating Western technology into their practices for disclosing evil. In their new knowledge-making practices, villagers combine the traditional disclosing powers of dreams and the dead with the modern disclosing powers of Western forms of communication, perception, and travel. This creates almost a Melanesian form of science fiction.
Villagers' novel experiments draw on local mythological understandings of hidden creative powers derived from solitude, singularity, transgression, and madness. These customary modalities of creativity and alterity have often been "Whitened." Thus, whereas previously bush spirits and the dead caused madness, today, Western culture (and especially Christianity) provides the extraordinary meanings, which entrap and alienate whilst offering hope and power. The dangerous ambiguous nature of Whiteness and modernity is also a prominent feature of local fairytales, which warn against the beguiling charms of beautiful Western objects and strange White people who have many customary Melanesian characteristics. It is the uneven, unfinished processes of Westernization that are being reflected upon and caricatured through new portraits of monstrosity and hope.
| | |
| --- | --- |
| Sold By | Carolina Academic Press |
| ISBNs | 1531010733, 9781531010737, 1594607273, 9781594607271 |
| Language | English |
| Number of Pages | 394 |