Competitive Sorption and Transport of Heavy Metals in Soils and Geological Media
1st Edition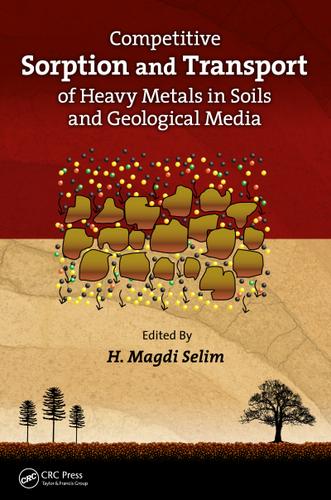 Additional Book Details
Most reported incidents of soil contamination include an array of heavy metals species rather than a single ion. The various interactions in these multicomponent or multiple-ion systems significantly impact the fate and transport of heavy metals, and competition for sorption sites on soil matrix surfaces is a common phenomenon. Because of this, considering competitive sorption is an important part of predicting contaminant transport. Competitive Sorption and Transport of Heavy Metals in Soils and Geological Media gives you the information needed to understand heavy metals' sorption and transport in the vadose zone and aquifers.
The book brings together state-of-the art research on the competitive sorption and mobility of single versus multiple heavy metal species. It also relates the transport mechanisms to the processes that govern sorption mechanisms. The work offers new experimental evidence on the fate of multiple heavy metals in soil columns and new field results on how multiple ions influence the mobility of metals in the soil profile under water-unsaturated flow.
Emphasizing modeling approaches, the book begins with an overview of the competitive behavior of heavy metals. It then takes a closer look at various heavy metals, discussing their behavior in tropical soils, speciation and fractionation, accumulation, migration, competitive retention, and the contamination of water resources at the watershed scale. The book also presents extensive data on phosphate, a commonly used fertilizer, and its role in facilitating the release of trace elements. The final chapter looks at the effect of waterlogged conditions on arsenic and cadmium solubilization.
Edited by an internationally recognized researcher and featuring expert contributors, this comprehensive work addresses the complex physical and chemical phenomena of sorption mechanisms. Presenting the latest research, it helps you to better predict the potential mobility of multiple heavy metals in soils.
| | |
| --- | --- |
| Sold By | CRC Press |
| ISBNs | 9781439880142, 1138073393, 9781439880159, 1439880158 |
| Language | English |
| Number of Pages | 420 |
| Edition | 1st |