Comparative Anatomy and Phylogeny of Primate Muscles and Human Evolution
1st Edition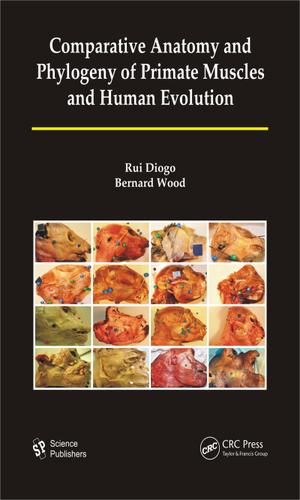 Additional Book Details
This book challenges the assumption that morphological data are inherently unsuitable for phylogeny reconstruction, argues that both molecular and morphological phylogenies should play a major role in systematics, and provides the most comprehensive review of the comparative anatomy, homologies and evolution of the head, neck, pectoral and upper limb muscles of primates.
Chapters 1 and 2 provide an introduction to the main aims and methodology of the book.
Chapters 3 and 4 and Appendices I and II present the data obtained from dissections of the head, neck, pectoral and upper limb muscles of representative members of all the major primate groups including modern humans, and compare these data with the information available in the literature.
Appendices I and II provide detailed textual (attachments, innervation, function, variations and synonyms) and visual (high quality photographs) information about each muscle for the primate taxa included in the cladistic study of Chapter 3, thus providing the first comprehensive and up to date overview of the comparative anatomy of the head, neck, pectoral and upper limb muscles of primates.
The most parsimonious tree obtained from the cladistic analysis of 166 head, neck, pectoral and upper limb muscle characters in 18 primate genera, and in representatives of the Scandentia, Dermoptera and Rodentia, is fully congruent with the evolutionary molecular tree of Primates, thus supporting the idea that muscle characters are particularly useful to infer phylogenies.
The combined anatomical materials provided in this book point out that modern humans have fewer head, neck, pectoral and upper limb muscles than most other living primates, but are consistent with the proposal that facial and vocal communication and specialized thumb movements have probably played an important role in recent human evolution.
This book will be of interest to primatologists, comparative anatomists, functional morphologists, zoologists, physical anthropologists, and systematicians, as well as to medical students, physicians and researchers interested in understanding the origin, evolution, homology and variations of the muscles of modern humans.
Contains 132 color plates.
| | |
| --- | --- |
| Sold By | CRC Press |
| ISBNs | 9781578087679, 1578087678, 9781439883365, 143988336X |
| Language | English |
| Number of Pages | 1034 |
| Edition | 1st |