iOS Programming Cookbook
1st Edition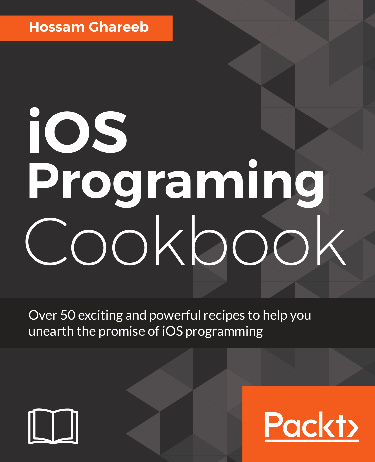 Additional Book Details
Over 50 exciting and powerful recipes to help you unearth the promise of iOS programming
About This Book
• Create high performance iOS apps with a focus on application development APIs and techniques
• Enrich your UI skills with UIStoryboard, Autolayout, Size classes, and Container view
• Produce enhanced results with iOS 10 as a result of learning and implementing pro-level practices, techniques, and solutions
Who This Book Is For
If you are an iOS developer on a quest to develop your perfect iOS app, then this book is for you. It would also prove to be a valuable resource for those who want to get up and running with iOS development through a clear, practical approach. In order to unleash the full potential of this book, basic Swift programming knowledge is necessary.
What You Will Learn
• Build your own custom UIViews through code or the interface builder
• Implement a dynamic and interactive interface in an iOS app
• Work on various graphics related elements and the process of using them together to make meaningful shapes.
• Use the side over and split view to interact with multiple apps concurrently
• Encrypt JSON calls to make the app more secure
• Work on web markup feature to enhance search optimization
In Detail
Do you want to understand all the facets of iOS programming and build complex iOS apps? Then you have come to the right place. This problem-solution guide will help you to eliminate expensive learning curves and focus on specific issues to make you proficient at tasks and the speed-up time involved.
Beginning with some advanced UI components such as Stack Views and UICollectionView, you will gradually move on to building an interface efficiently.
You will work through adding gesture recognizer and touch elements on table cells for custom actions. You will work with the Photos framework to access and manipulate photos. You will then prepare your app for multitasking and write responsive and highly efficient apps. Next, you will integrate maps and core location services while making your app more secure through various encryption methods. Finally, you will dive deep into the advanced techniques of implementing notifications while working with memory management and optimizing the performance of your apps. By the end of the book, you will master most of the latest iOS 10 frameworks.
Style and approach
This is the best practical resource on iOS 10 development. This book, with its no nonsense approach and a clear practical focus, will be your best friend on your quest to develop your perfect iOS app. The best thing about this book is that in addition to recipes on iOS programming techniques and app development essentials, it will take you on a complete guided tour of all the new app development APIs that are shipped with iOS 10.
| | |
| --- | --- |
| Sold By | Packt Publishing |
| ISBNs | 9781786460981, 9781786467706 |
| Language | English |
| Number of Pages | 507 |
| Edition | 1st |