Exegetical Commentary on the Code of Canon Law
Volume III/2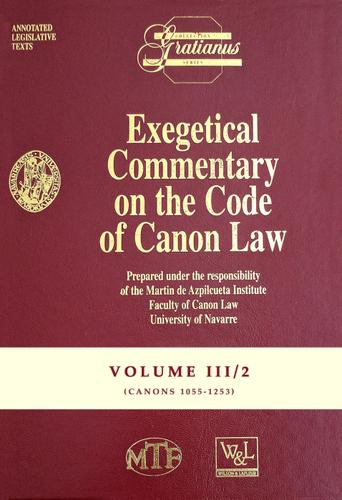 Already purchased in store?
Additional Book Details
"VOLUME III/2 (902 pages)
Canons 1055-1253
Book IV - The Sanctifying Office of the Church
Encompassing contributions from world-renowned canonical scholars, this is considered a definitive commentary on the Code of Canon Law. This eight-book, five-volume set represents Professor Lombardias effort to provide a commentary on the Code of Canon Law and includes contributions from 115 of the worlds most respected canonists. Includes the Latin and English canons, research sources, and cross-references.
Features of this English Edition include side-by-side Latin-English for each canon, research sources and cross-references, and exhaustive commentary on each canon in English.
There are a total of 5 volumes in eight books, 8152 pages total."