Core Questions of Comparative Law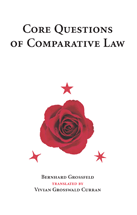 Print On Demand Available
Print on Demand books are individually printed when an order is placed and typically arrive between 7 - 10 business days. When placing an order, you'll be asked to choose a shipping address or pickup location.
Already purchased in store?
Additional Book Details
This book is the English translation of one of the most important works of recent years in the field of comparative law, by the eminent German legal scholar, Bernhard Grossfeld, translated by Vivian Grosswald Curran. It deals with theoretical aspects of comparative law, including references to poetry, physics, number theory, semiotics, western and eastern religious heritages, geography, languages, and history. Grossfeld claims such works of theory are necessary in order to formulate adequate practical applications and implementations of comparative law. This book opens the door to understanding the increasing challenges comparative law faces in a rapidly changing legal world of unexpected connections. The book's suggestions allow readers to engage in their own process of digestion and formulation. Grossfeld brings an impressive breadth of knowledge to insightfully propose new conceptions of comparative law and how we may conduct it with efficacy, curiosity, dedication, and with humanity.