Significant Prisoner Rights Cases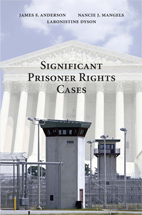 Already purchased in store?
Additional Book Details
Significant Prisoner Rights Cases is written to introduce criminal justice students (both undergraduates and graduates) and correctional practitioners to legal and constitutional rights that affect practitioners and prisoners on a day-to-day basis. This book provides the reader with a clear and concise presentation of cases brought by prisoners under the First, Fourth, Eighth, and Fourteenth Amendments challenging the conditions of their confinement. The book presents complex legal rights cases in an easy to read format that includes the significance of each case and how it impacts corrections. It covers case law relevant to amendments and federal rules, and provides the federal courts interpretations of the U.S. Constitution. In addition, this book provides recommendations and remedies that can be used to bring correctional facilities in compliance with Constitution law. Significant Prisoner Rights Cases will be an excellent adoption for students enrolled in justice-related courses, such as legal rights of prisoners, correctional law, and social justice.