Refugee Law and Policy
4th Edition
A Comparative and International Approach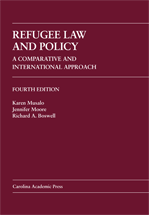 Already purchased in store?
Additional Book Details
The fourth edition of Refugee Law and Policy, which includes all legal developments through mid-2010, provides a thoughtful scholarly analysis of refugee law, and related protections such as those available under the Convention against Torture. The book is rooted in an international law perspective, enhanced by a comparative approach. Starting with ancient precursors to asylum, the casebook portrays refugee law as dynamic across time and cultural contexts. This edition of the casebook has incorporated substantial new materials on the cutting edge area of social group claims, and their relevance to claims for protection based on gender-persecution and LGBT status. It includes an extensive discussion of the concept of social visibility which has become one of the most controversial interpretive issues in U.S. refugee law.
Although Refugee Law and Policy is directed to students of U.S. law, it draws on the legislation, jurisprudence and guidelines of other Refugee Convention and Protocol signatories, including Canada, the United Kingdom, Germany, Australia, New Zealand and South Africa. The casebook is up to date on developments to harmonize refugee policy within the European Union, and includes discussion of relevant E.U. directives.