Under the Influence
Tracing the Hip-Hop Generations Impact on Brands, Sports, and Pop Culture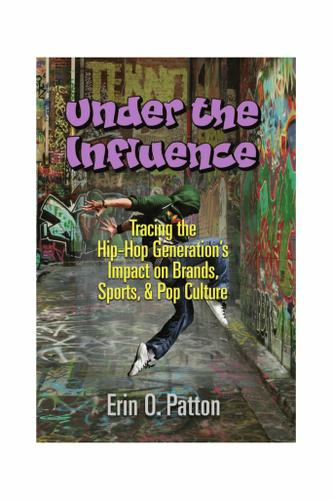 Additional Book Details
Hip-Hop culture has had a profound impact on marketing in the past two decades and it provided an intersection for brands, sports, and popular culture. Moving from the urban market to the suburbs, from the Northeast to the South, Hip-Hop celebrities and their rhymes have shown up in many product categories from automotive and apparel to sports. Jay Z Cool even has a color named for him.|Erin O. Patton documents this impact in his new book, Under the InfluenceTracing the Hip-Hop Generations Impact on Brands, Sports, & Pop Culture.
Now a master marketer, but once a high school athlete hooked on Hip-Hop, Patton cut his public relations teeth working for Nike on the Michael Jordan account. In that position he learned the relevance of Hip-Hop culture to the sale of basketball sneakers as well as the importance of being first and setting the trend among the urban Hip-Hop generation. Using the street as his laboratory, Patton has studied the nuances of urban Hip-Hop and even segmented the hip-hop market in a system he calls the 7 CiphersTM.
Pattons personal journey has taken him from the Homewood-Brushton section of Pittsburgh, Pennsylvania to Beaverton, Oregon, New York City, and Dallas and from a degree in journalism to a career in public relations and marketing. He is also an adjunct professor of sports marketing at Cox Business School, Southern Methodist University. Patton shares many examples of how Hip-Hop has been incorporated into advertising and marketing campaigns, including mistakes marketers have made by not taking the urban market seriously. A detailed case study documents the launch of the Stephon Marburys Starbury basketball sneaker (a mothers dream at $15) and Marburys mission to save the world.
Adam Graves, senior vice president of Deutsch Advertising says of Under the Influence and Patton: If there are any marketers out there that still think they can ignore the urban market theyd better think again. As Hip-Hop culture and its influence has poured out of the cities and spread around the world, the urban market has become the market. This isnt just a book for so-called urban marketers; this should be mandatory reading for every marketer in the country.
Silvia Alvarez, director of multicultural and charitable communications for Major League Baseball says, Under the Influence is a must read for sports industry professionals interested in growing their sport through outreach to multicultural markets. Erin Patton contributes interesting insights to the ongoing conversation around diversity in sports.
| | |
| --- | --- |
| Sold By | Paramount Market Publishing, Inc. |
| ISBNs | 9781941688090, 0980174546, 9780980174540 |
| Publish Year | 2009 |
| Language | English |
| Number of Pages | 184 |
| Website | www.paramountbooks.com |