The Women's War of 1929
A History of Anti-Colonial Resistance in Eastern Nigeria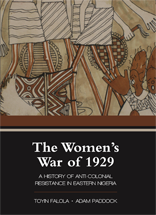 Already purchased in store?
Additional Book Details
This book offers a narrative and analysis of a central event in the colonial history of Nigeria the Womens War of 1929, also called the Aba Womens Riots by colonial officials. The Womens War of 1929 addresses the historical debates related to the causes and consequences of the event with assessments of each sides strengths and weaknesses. Focusing mainly on the actions of African participants, the book explains the cultural, social, and economic issues that led to the Womens War and the reasons why women used specific strategies. It also evaluates the aftermath of the conflict and how the protest practices used by Igbo and Ibibio women influenced British colonial policy. The book goes further than other historical accounts of the Womens War by evaluating subsequent womens protests into the 1930s.
The volume includes a large collection of primary documents reproduced for print from archives in Nigeria and London. A chapter designed for students gives context to the documents and offers a short guide on how to use them effectively. The document collection offers insights into more than just the Womens War, owing to firsthand accounts and opinions from Igbo and Ibibio people, as well as how colonial officials described life under British colonialism. The documents section is designed to be a primary resource for students and professors of African Studies, African History, British Imperial Studies, and Gender Studies so that readers interested in the subject have the chance to read the actual words of African women and colonial officials.