Dark Night, Early Dawn
Steps to a Deep Ecology of Mind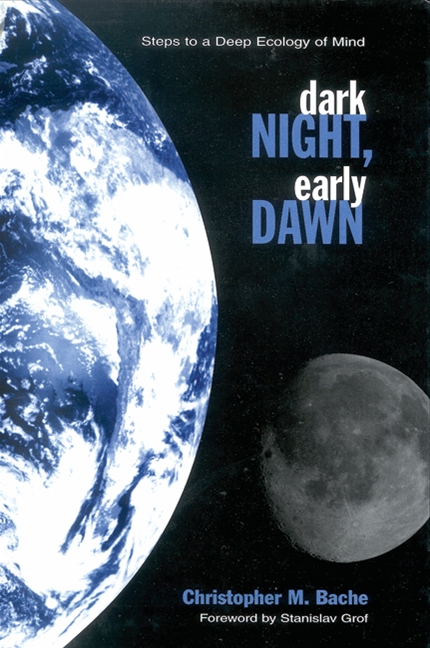 Additional Book Details
Argues that philosophical reflection today must include the findings of depth psychology and the critical study of non-ordinary states of consciousness.

Combining philosophical reflections with deep self-exploration to delve into the ancient mystery of death and rebirth, this book emphasizes collective rather than individual transformation. Drawing upon twenty years of experience working with nonordinary states, Bache argues that when the deep psyche is hyper-stimulated using Stanislav Grof's powerful therapeutic methods, the healing that results sometimes extends beyond the individual to the collective unconscious of humanity itself.

Dark Night, Early Dawn is the most important book I have read in recent years. Whenever I present a brief summary of its major ideas, either to students in my graduate classes or to general audiences, it unfailingly arouses intense interest. I believe Bache's work evokes this response because he has articulated, with superb clarity, rigor, and depth of insight, a radically expanded perspective on the deeper nature of individual human experience, a perspective that many have been gradually intuiting but had not yet been able clearly to formulate.

"With moving honesty and a rare lack of inflation, Bache has brought forth a conception of the human psyche that intimately reconnects the personal ordeals and awakenings of the individual to the larger collective suffering and spiritual transformation of the entire human species, at this most crucial of historical thresholds. This is a book to read soon and to integrate carefully." -- Richard Tarnas, author of The Passion of the Western Mind: Understanding the Ideas That Have Shaped Our World View

"This very important contribution to transpersonal psychology, I know very few books that represent such a unique balance of critical thinking and deep personal experience. The author's extensive knowledge of philosophical, religious, and psychological literature makes it possible for him to provide solid grounding for the profound insights from his nonordinary states of consciousness. Brings unusual clarity into several important problem areas and represents an important step toward an integration and synthesis of the observations and experiences involved. Christopher Bache is one of the most creative and imaginative thinkers in the transpersonal field." -- Stanislav Grof, author of The Cosmic Game: Explorations of the Frontiers of Human Consciousness and Beyond the Brain: Birth, Death, and Transcendence in Psychotherapy

Christopher M. Bache is Professor of Religious Studies in the Department of Philosophy and Religious Studies at Youngstown State University. He is the author of Lifecycles: Reincarnation and the Web of Life.
| | |
| --- | --- |
| ISBNs | 9780791446065, 9780791492413, 0791492419 |
| Language | English |
| Number of Pages | 376 |