Vera and the Ambassador
Escape and Return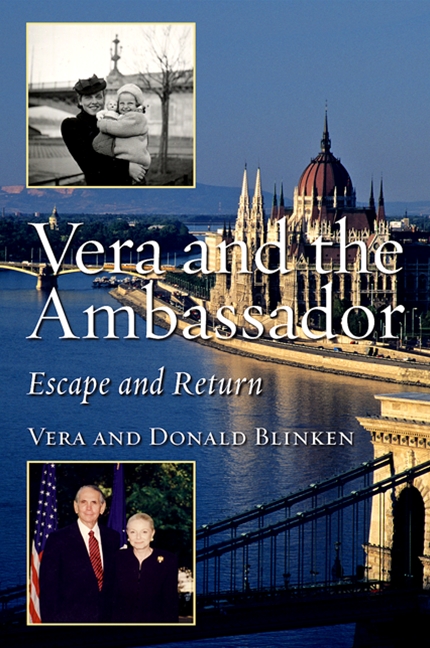 Additional Book Details
Vera and the Ambassador is a book to be savored and enjoyed on many levels. Both a behind-the-scenes peek at the operations of a U.S. embassy in a post–Cold War former Soviet satellite and a personal story of a refugee's escape and triumphant return, Vera and Donald Blinken's dual memoir openly details their challenges, setbacks, and victories as they worked in tandem to advance America's interests in Eastern Europe and to restore a former Soviet satellite state to a pre-communist level of prosperity.

Hungary in all its cultural glory and historical anguish lies at the heart of this dramatic and deeply personal story. Born in Budapest just prior to World War II, Vera was only five years old when the Germans invaded in 1944. In a harrowing account, she describes how she and her mother managed to survive the atrocities of the war and, in 1950, narrowly escape Soviet-occupied Hungary for the freedom and opportunity of America. Making their way to New York, Vera settled into her adopted country with an indomitable spirit, a vow to become the best American she could be, and a hope of finding some way to give back as a show of gratitude for her good fortune in surviving the destruction of the war.

That opportunity came in 1994 when her husband was appointed ambassador to Hungary by President Clinton, just five years into the country's tentative transformation from a command economy and totalitarian government into a market economy and fledgling republic based upon democratic ideals. A former investment banker, Donald might have lacked foreign service experience, but his skills as an administrator and his willingness to try innovative ideas, combined with Vera's knowledge of Hungarian language and culture and her outreach to the Hungarian community, helped them deal head-on with a variety of challenges, including a collapsing economy and the threat of a slide back toward the old ways of communism, and a brutal civil war that raged across the country's southern border in the former Yugoslavia.

Replete with colorful characters from the streets of Budapest, humorous scenes at the ambassadorial residence, and accounts of tense high-level diplomatic negotiations in the run-up to Hungary's vote to join NATO, Vera and the Ambassador shows how the Blinkens helped chart a new course for American diplomacy in the mid-1990s. Ultimately, it is also the story of how Hungarians came to see them personally, and memorably, as their Vera and their ambassador.
| | |
| --- | --- |
| ISBNs | 9781438426884, 9781438426631, 1438426887 |
| Language | English |
| Number of Pages | 364 |