The Political Consequences of Thinking
Gender and Judaism in the Work of Hannah Arendt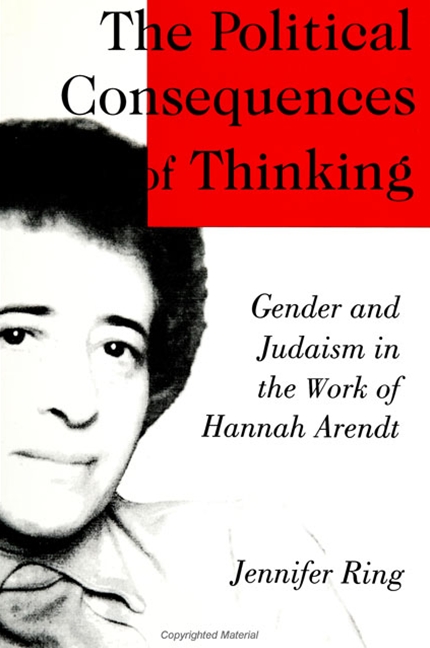 Additional Book Details
In this book, Jennifer Ring offers a wholly new interpretation of Hannah Arendt's work, from Eichmann in Jerusalem, with its bitter reception by the Jewish community, to The Life of the Mind. Departing from previous scholarship, Ring applies the perspectives of gender and ethnicity to investigate the extent to which Arendt's identity as a Jewish woman influenced both her thought and its reception.

Ring's analysis of Zionist and assimilationist responses to century-old antisemitic sexual stereotypes leads her to argue that Arendt's criticism of European Jewish leadership during the Holocaust was bound to be explosive. New York and Israeli Jews shared a rare moment of unity in their condemnation of Arendt, charging that she had betrayed the Jewish community—the kind of charge, Ring contends, often leveled against women who dare to speak out publicly against prominent men in their own cultural or racial groups.

The book moves from a feminist analysis of the Eichmann controversy to a discussion of Jewish themes in the structure and content of Arendt's major theoretical works. Ring makes a powerful contribution to an understanding of Arendt, and of multiculturalism, demonstrating that Arendt's most sustained philosophical work was influenced as much by her Jewish heritage as by her German education.
| | |
| --- | --- |
| ISBNs | 9780791434833, 143841739X, 9781438417394 |
| Language | English |