Encounters with Witchcraft
Field Notes from Africa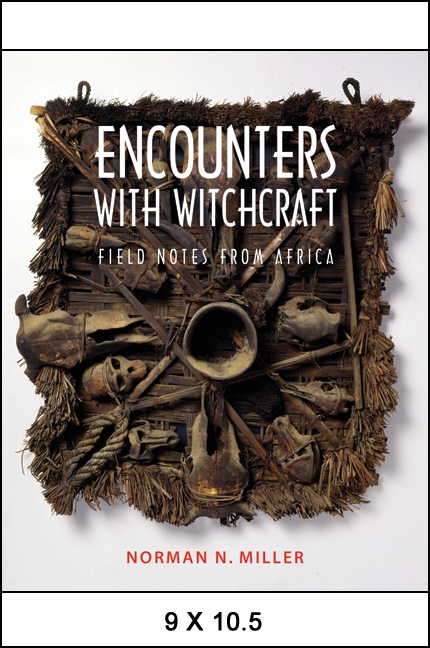 Additional Book Details
Encounters with Witchcraft is a personal story of a young man's fascination with African witchcraft discovered first in a trek across East Africa and the Congo. The story unfolds over four decades during the author's long residence in and many trips to Kenya, Tanzania and Uganda. As a field researcher he learns from villagers what it is like to live with witches, and how witches are seen through African eyes. His teachers are healers, cult leaders, witch-hunters and self-proclaimed "witches" as well as policemen, politicians and judges.

A key figure is Mohammadi Lupanda, a frail village woman whose only child has died years before. In her dreams, however, she believes the little girl is not dead, but only lost in the fields. Mohammadi is discovered wandering at night, wailing and calling out for the child. Her neighbors are terror-stricken and she is quickly brought to a village trial and banished as a witch. The author is able to watch and listen to the proceedings and later investigate the deeper story. He discovers mysteries about Mohammadi that are only solved when he returns to the village three decades later.

Today, witch-hunting and witchcraft-related crimes are found in more than seventy developing countries. Epidemics of violence against alleged witches, mainly women, but including elders of both genders, and even children is on the increase in some parts of the world. Witchcraft beliefs may lie behind vigilante murders, political assassinations, revenge killings and commercial murders for human body parts.

Through African voices the author addresses key questions. Do witchcraft powers exist? Why does witchcraft persist? What are its historic roots? Why is witchcraft-based violence so often found within families? Does witchcraft serve as a hidden legal and political system, a mafia-like under-government? The author holds up a mirror for us to think about religious beliefs in our own experience that rely heavily on myth and superstition.
| | |
| --- | --- |
| ISBNs | 9781438443591, 9781438443584, 1438443595 |
| Language | English |
| Number of Pages | 240 |