Critical Transnational Feminist Praxis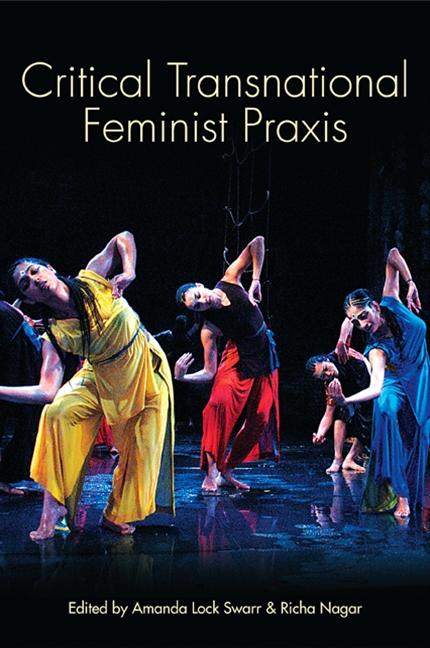 Additional Book Details
Provocative, timely, and global, this volume offers a critical and grounded engagement with transnational feminism through the lens of praxis—the juncture of theory and practice. In so doing, it grapples with questions of power and representation while remaining deeply committed to radical critiques and agendas of transnational and postcolonial feminisms. Long-time activists and well-known scholars speak to a wide range of issues and practices, including women's studies curricula; NGOs; transnational and LGBTQ studies; feminist methodologies; and film. These essays similarly conceptualize ways to more effectively theorize feminist collaborative practices while subverting such rigid, established dichotomies as theory/practice, academic/activist, individual/collaborative, and the global North/South. A number of transnational projects are highlighted: the Guyanese Red Thread collective; the Ananya Dance Theater; the Philippine Women Center of British Columbia; the Filipino-Canadian Youth Alliance; the VIVA! Project; and the Indian organization Sangtin. Comprehensive in scope and rigorous in critical scrutiny, these powerful essays set the twenty-first-century agenda for political engagement through feminist scholarship.

"The mix of styles makes for a lively read that is accessible for its extraordinary candor, its combination of theory with firmly grounded empirical examples, and an unflinching confrontation of pain and conflict. It made me think about entirely new things and about familiar things in new ways and to make connections among them." — Louise Fortmann, University of California Berkeley

Amanda Lock Swarr is Assistant Professor of Women Studies at the University of Washington, Seattle. Richa Nagar is Professor of Gender, Women, and Sexuality Studies at the University of Minnesota, Twin Cities. She is the author (with Sangtin writers) of Playing with Fire: Feminist Thought and Activism through Seven Lives in India.
| | |
| --- | --- |
| ISBNs | 9781438429373, 1438429398, 9781438429397 |
| Language | English |