Who Should Be First?
Feminists Speak Out on the 2008 Presidential Campaign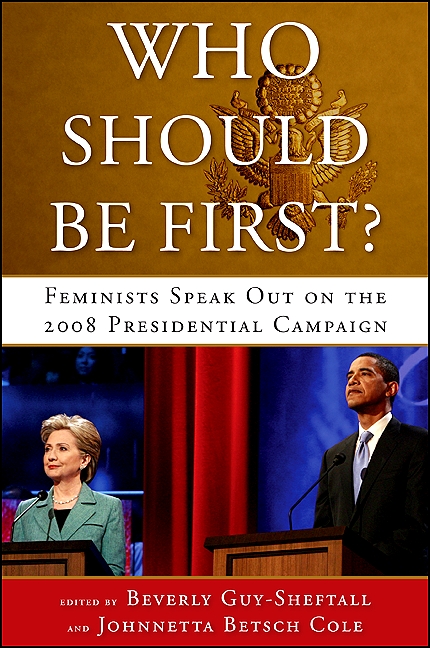 Additional Book Details
Who should be first? With Barack Obama and Hillary Clinton as frontrunners, the 2008 Democratic primary campaign was a watershed moment in United States history. Offering the choice of an African American man or a white woman as the next Democratic candidate for U.S. President, the primary marked an unprecedented moment—but one that painfully echoed previous struggles for progressive change that pitted race and gender against each other. Who Should Be First? collects key feminist voices that challenge the instances of racism and sexism during the presidential campaign season, offer personal reflections on this historic moment, and trace the historic legacy of opposing issues of race and gender that informed debates and media representations of the 2008 Democratic primary. In this collection of writings by leading feminists including Patricia J. Williams, Gloria Steinem, Alice Walker, Carol Moseley Braun, Maureen Dowd, Katha Pollitt, Pearl Cleage, Robin Morgan, Erica Jong, Mark Anthony Neal, and M. Jacqui Alexander about and during this unprecedented—and to many, unexpected—moment, editors Beverly Guy-Sheftall and Johnnetta Cole deftly balance charged conversations in the first collection on this key moment in contemporary U.S. history.
| | |
| --- | --- |
| ISBNs | 1438433735, 9781438433752, 9781438433738 |
| Language | English |