Dancing with the Queen, Marching with King
The Memoirs of Alexander "Sam" Aldrich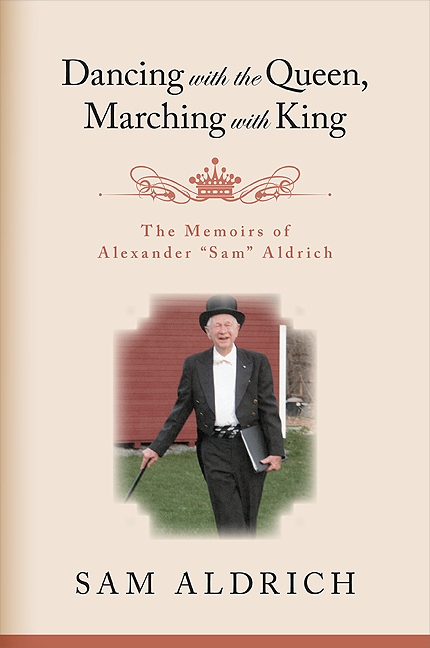 Additional Book Details
When he was twenty-five, Sam Aldrich danced with Queen Elizabeth II in London. By the time he was thirty-seven, he was marching with Martin Luther King Jr. in Selma. Recounting the journey between and beyond those two points, and musing over the irony of the contrast they represent, is the subject of this remarkable and entertaining memoir.

After a cosseted childhood in New York's silk stocking district, including weekends on Long Island's Gold Coast and summers in Dark Harbor, Maine, Aldrich was expected to follow in his father's footsteps and pursue a career in high finance. "Dancing with the queen of England was just a small function of the privileged life and family into which I was born," he writes, "and events such as this would be a regular part of my upper-class, well-traveled social life." Instead, and to his parents' chagrin, he chose decades of hard work in the public sector, serving as deputy police commissioner in New York City, director of the New York State Division for Youth, executive assistant to Governor Nelson Rockefeller, president of the Brooklyn Center of Long Island University, and commissioner of the New York State Office of Parks, Recreation and Historic Preservation, before entering teaching full-time at midlife.

Illustrated with photographs from Aldrich's personal collection, this lively memoir offers personal insights into New York State politics and history. Whether working to develop an effective system for rehabilitating juvenile offenders in New York City, trying to find an environmentally sound means for development in the Hudson River Valley, or teaching public policy at SUNY's Empire State College, Aldrich shows what it means to follow one's passions and interests, and to take the gifts one has been given and use them to try to make this world a better place.
| | |
| --- | --- |
| ISBNs | 143843989X, 9781438439891, 9781438439877 |
| Language | English |
| Number of Pages | 273 |