American Exceptionalisms
From Winthrop to Winfrey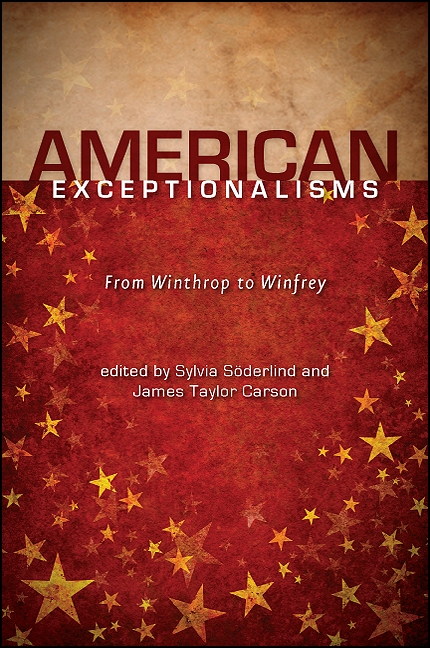 Additional Book Details
An incisive and wide ranging look at a powerful force and myth in American culture and history, American Exceptionalisms reveals the centuries-old persistence of the notion that the United States is an exceptional nation, in being both an example to the world and exempt from the rules of international law. Scholars from North America and Europe trace versions of the rhetoric of exceptionalism through a multitude of historical, cultural, and political phenomena, from John Winthrop's vision of the "cittie on a hill" and the Salem witch trials in the seventeenth century to The Blair Witch Project and Oprah Winfrey's "Child Predator Watch List" in the twenty-first century. The first set of essays focus on constitutive historical moments in the development of the myth, rom early exploration narratives through political debates in the early republic to twentieth-century immigration debates. The latter essays address the role of exceptionalism in the "war on terror" and such cornerstones of modern popular culture such as the horror stories of H.P. Lovecraft, the songs of Steve Earle, and the Oprah Winfrey show.

Sylvia Söderlind is Associate Professor of English Language and Literature at Queen's University, Kingston, Ontario, Canada. She is the author of Margin/Alias: Language and Colonization in Canadian and Québécois Fiction (Toronto: University of Toronto Press, 1991) and articles on American, Canadian and Québécois fiction, "ghostmodernism" and translation, and the politics of metaphor published in, among others, Canadian Review of Comparative Literature, Ariel, Essays in Canadian Writing, Voix et images, RS/SI, New Feminism Review (Japan), ARTES (Sweden).

James Taylor Carson is Professor of History and Associate Dean in the Faculty of Arts and Science at Queen's University, Kingston, Ontario, Canada. His scholarship focuses on the ethnohistory of native peoples in the American South, and he has published two books on the subject, Searching for the Bright Path: The Mississippi Choctaws from Prehistory to Removal (Lincoln: University of Nebraska Press, 1999) and Making an Atlantic World: Circles, Paths, and Stories from the Colonial South (Knoxville: University of Tennessee Press, 2007).
| | |
| --- | --- |
| ISBNs | 1438435762, 9781438435756, 9781438435763 |
| Language | English |