Why Be Moral?
Learning from the Neo-Confucian Cheng Brothers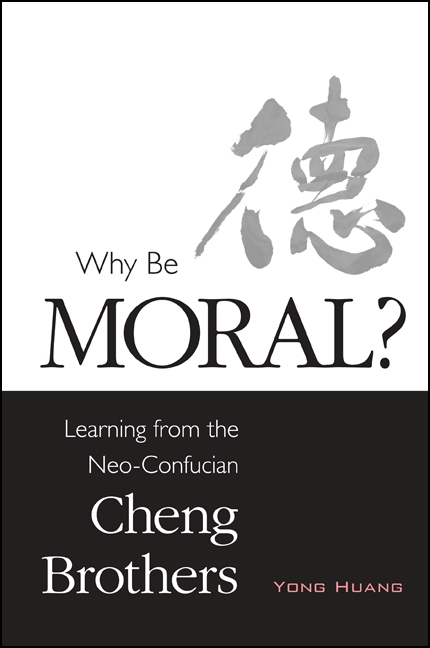 Additional Book Details
Yong Huang presents a new way of doing comparative philosophy as he demonstrates the resources for contemporary ethics offered by the Cheng brothers, Cheng Hao (1032–1085) and Cheng Yi (1033–1107), canonical neo-Confucian philosophers. Huang departs from the standard method of Chinese/Western comparison, which tends to interest those already interested in Chinese philosophy. While Western-oriented scholars may be excited to learn about Chinese philosophers who have said things similar to what they or their favored philosophers have to say, they hardly find anything philosophically new from such comparative work. Instead of comparing and contrasting philosophers, each chapter of this book discusses a significant topic in Western moral philosophy, examines the representative views on this topic in the Western tradition, identifies their respective difficulties, and discusses how the Cheng brothers have better things to say on the subject. Topics discussed include why one should be moral, how weakness of will is not possible, whether virtue ethics is self-centered, in what sense the political is also personal, how a moral theory can be of an antitheoretical nature, and whether moral metaphysics is still possible in this postmodern and postmetaphysical age.
| | |
| --- | --- |
| ISBNs | 9781438452906, 1438452926, 9781438452920 |
| Language | English |