Star Trek and Sacred Ground
Explorations of Star Trek, Religion, and American Culture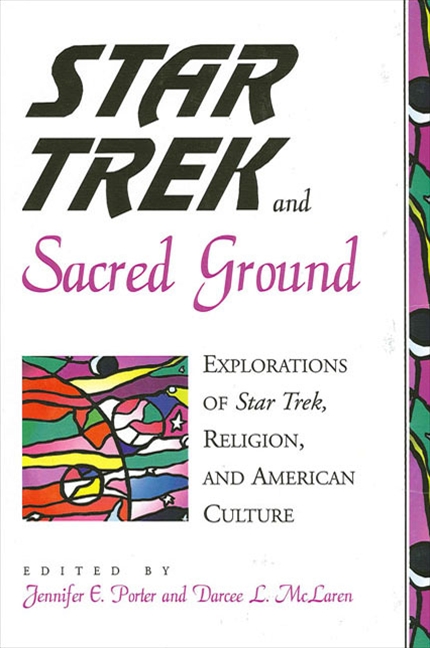 Additional Book Details
Drawing on a number of methodologies and disciplinary perspectives, this book boldly goes where none has gone before by focusing on the interplay between Star Trek, religion, and American culture as revealed in the four different Trek television series, and the major motion pictures as well. Explored from a Trek perspective are the portrayal and treatment of religion; the religious and mythic elements; the ritual aspects of the fan following; and the relationship between religion and other issues of contemporary concern.

Divided into three sections, this detailed study of religion, myth, and ritual in the Star Trek context extends the boundaries of the traditional categories of religious studies, and explores the process of the (re)creation of culture. The first section explores the ways in which religion has primarily been understood in the Star Trek franchise in relationship to science, technology, scientism, and 'secular humanism.' What do Star Trek and its creator Gene Roddenberry have to say about religion, and what does this reveal about changing American perceptions about the role, value, and place of religion in everyday life? Section Two examines the mythic power and appeal of Star Trek, and highlights the mythic and symbolic parallels between the series' story lines and themes taken from both western religious tradition and the scientific and technological components of contemporary North American Society. In the final section, contributors discuss the mythic and ritual aspects of Star Trek fandom. How have Star Trek fans found meaning and value in the television programs, and how do they express that meaning in their lives?

Contributors include Robert Asa, Michael Jindra, Larry Kreitzer, Jeffrey S. Lamp, Peter Linford, Ian Maher, Anne Pearson, Gregory Peterson, and Jon Wagner.
| | |
| --- | --- |
| ISBNs | 1438416350, 9780791443330, 9781438416359 |
| Language | English |