Literature and "Interregnum"
Globalization, War, and the Crisis of Sovereignty in Latin America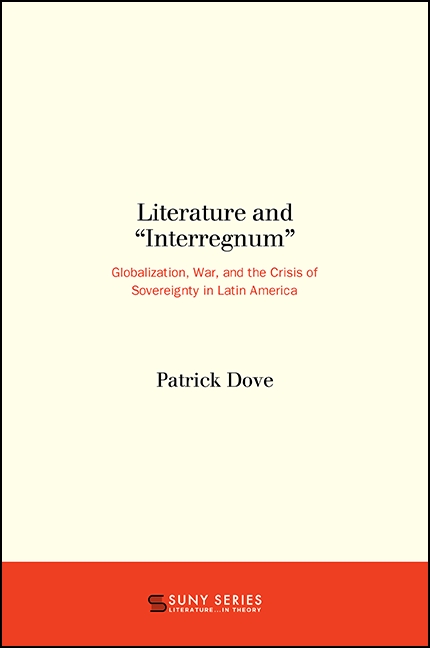 Additional Book Details
Literature and "Interregnum" examines the unraveling of the political forms of modernity through readings of end-of-millennium literary texts by César Aira, Marcelo Cohen, Sergio Chejfec, Diamela Eltit, and Roberto Bolaño. The opening of national spaces to the global capitalist system in the 1980s culminates in the suspension of key principles of modernity, most notably that of political sovereignty. While the neoliberal model subjugates modern forms of social organization and political decision making to an economic rationale, the market is unable to provide a new ordering principle that could fill the empty place formerly occupied by the national figure of the sovereign. The result is a situation that resembles what the Italian political philosopher Antonio Gramsci termed "interregnum," an in-between time in which "the old [order] is dying and the new cannot be born." The recoding of history as literary form provides occasions for reconsidering modern conceptualizations of aesthetic experience, mood, temporality, thought, politics, ethical experience, as well as of literature itself as social institution. In his analysis, Patrick Dove seeks to create dialogues between literature and theoretical perspectives, including Continental philosophy, political thought, psychoanalysis, and sociology of globalization. The author highlights the connections between mass media, technology, politics, and economics.
| | |
| --- | --- |
| ISBNs | 1438461569, 9781438461557, 9781438461564 |
| Language | English |