FDR on His Houseboat
The Larooco Log, 1924-1926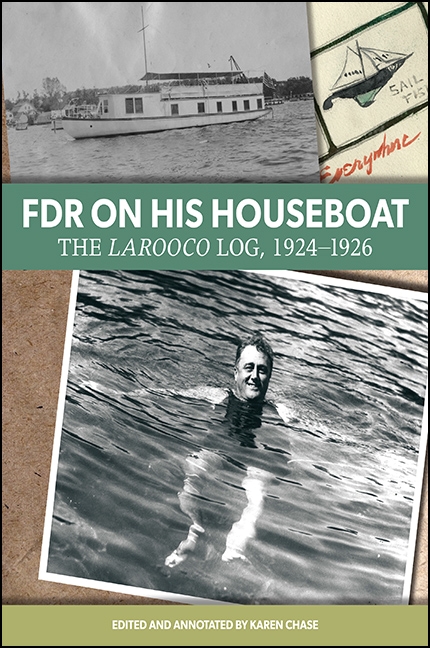 Additional Book Details
In the midst of the Jazz Age, while Americans were making merry, Franklin Delano Roosevelt was stricken by polio and withdrew from public life. From 1924 to 1926, believing that warm water and warm air would help him walk again, he spent the winter months on his new houseboat, the Larooco, sailing the Florida Keys, fishing, swimming, playing Parcheesi, entertaining guests, and tending to engine mishaps. During his time on the boat, he kept a nautical log describing each day's events, including rare visits by his wife, Eleanor, who was busy carving out her own place in the world. Missy LeHand, his personal assistant, served as hostess aboard the Larooco.

While FDR was sailing the Keys, the larger world was glittering. Chaplin, Gershwin, Hemingway, Fitzgerald, Bessie Smith, Louis Armstrong, Gertrude Stein, Frida Kahlo, Martha Graham—all were flourishing in the Roaring Twenties, but so were Stalin, Al Capone, and Hitler. The world went on as Roosevelt fished for mangrove snapper and drank martinis.

Karen Chase presents FDR's log entries, interspersed with photographs from the tumultuous outer world, to form a kind of timeline between two arenas—one man's small private life full of struggle and fun, juxtaposed with the large public sphere. Chase gives us a side of FDR seldom seen before, revealing his wit, his penchant for practical jokes, and his zest for each day's ordinary concerns in the context of his painful struggle to regain the use of his legs. The book also includes a facsimile of the original Larooco log. For many decades FDR's log was virtually unknown to the public, appearing only once, in 1949, in his son Elliott's four-volume collection of Roosevelt's personal letters.
| | |
| --- | --- |
| ISBNs | 9781438462288, 9781438462295, 1438462298 |
| Language | English |