Reluctant Reformer
Nathan Sanford in the Era of the Early Republic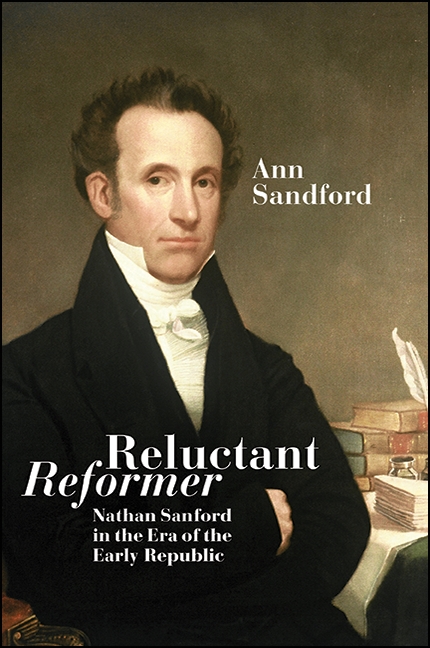 Additional Book Details
Set in the tumultuous decades of post-revolutionary America, Reluctant Reformer brings to light the long neglected New York lawyer-politician, Nathan Sanford. As a lawyer, Sanford contributed to modern property law. In the United States Senate, he dealt with central banking, struggled against slavery, and supported popular voting for presidential electors. He was a major designer of the program to rationalize the nation's currency. Against a backdrop of European wars and the War of 1812, he capitalized on opportunities for upward social mobility in a period of nation-building and commercial expansion. At the New York State Constitutional Convention of 1821, he fought for universal manhood suffrage.

Educated in history and government at Clinton Academy on Long Island and at Yale, and a student at the Litchfield School of Law, Sanford rose quickly to prominence as the federal attorney appointed by President Jefferson to serve all of New York State. Fueled by ambition, he navigated a career among Republican factional leaders—DeWitt Clinton, Aaron Burr, and Martin Van Buren—first in New York City, and then in the state and the nation. In 1824, he ran for vice president on the ticket with Henry Clay. Attuned to his familial ties to eastern Long Island but beyond the bounds of the rural community of his youth, Sanford faced decisions about whom to trust with a militia's gun and a citizen's vote. He could shift from his principles toward political compromise, as in restricting black male suffrage and in the removal of Indians from their ancestral lands.

In this book, Sanford is revealed as a wealth-seeking lawyer and officeholder who contributed to the expansion of democratic rights and responsive government in the Early Republic. In doing so, he proved to be a reluctant reformer who deserves a place in our public memory.
| | |
| --- | --- |
| ISBNs | 9781438466958, 1438466951, 9781438466941 |
| Language | English |
| Number of Pages | 216 |