Get Things Moving!
FDR, Wayne Coy, and the Office for Emergency Management, 1941-1943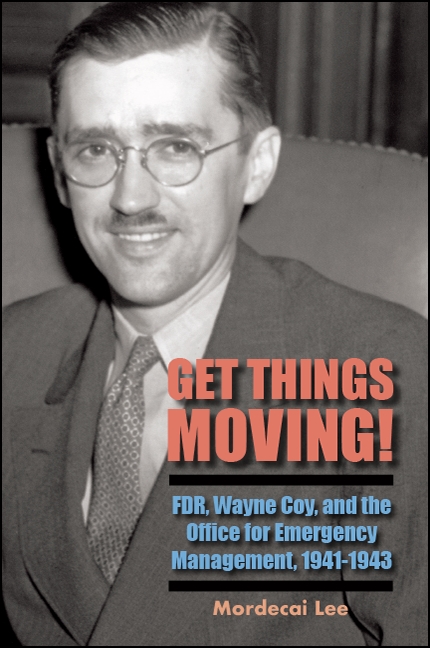 Additional Book Details
Shortly after Hitler's armies invaded Western Europe in May of 1940, President Franklin Roosevelt activated a new agency within the Executive Office of the President called the Office for Emergency Management (OEM). The OEM went on to house many prewar and wartime agencies created to manage the country's arms production buildup and economic mobilization. After World War II a consensus by historians quickly gelled that OEM was unimportant, viewing it as a mere administrative holding company and legalistic convenience for the emergency agencies. Similarly they have dismissed the importance of the Liaison Officer for Emergency Management (LOEM), viewing the position as merely a liaison channel between OEM agencies and the White House. Mordecai Lee presents a revisionist history of OEM, focusing mostly on the record of the longest serving LOEM, Wayne Coy. Drawing upon largely unexamined archival sources, including the Roosevelt and Truman Presidential Libraries and the National Archives, Lee gives a precise account of what Coy actually did and, contrary to the conventional wisdom, concludes he was an important senior leader in the Roosevelt White House, engaging in management, policy, and politics.
| | |
| --- | --- |
| ISBNs | 9781438471365, 1438471386, 9781438471389 |
| Language | English |