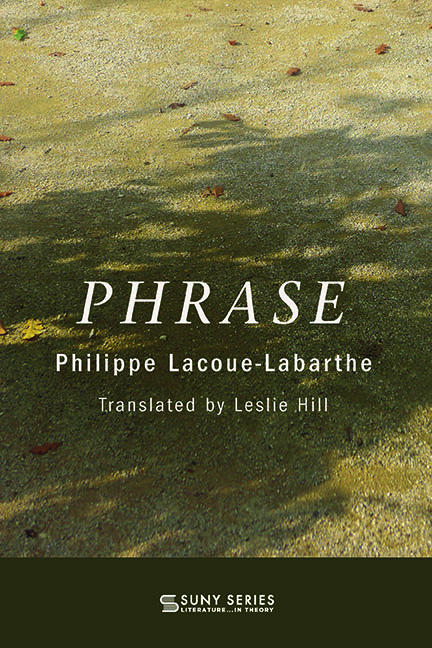 Additional Book Details
Philippe Lacoue-Labarthe (1940–2007) is widely acknowledged in his native France and in the English-speaking world as one of the most important philosophers of his generation and an exceptionally rigorous reader of Heidegger, Hölderlin, Benjamin, Blanchot, and Celan. An astute thinker of the political and a far-reaching and decisive analyst of the place of theater and music in Western metaphysics, Lacoue-Labarthe also had another, clandestine passion for something called "poetry" or "literature," though he would remain deeply suspicious of these words. Phrase is his most original work, a sequence of texts both autobiographical and philosophical, written in lucid prose and in free verse over a period of more than twenty-five years.

Published here in its entirety for the first time in English, Phrase is a profoundly moving meditation on the relationship between love and mortality, language and embodiment, writing and inspiration, memory and hope, loss and recompense, and music and silence. At its heart is a probing awareness of the mysterious gift of language itself, and of the perpetually elusive yet obsessive "phrase" that informs all human existence and provides the book with its lapidary title and distinctive signature. This translation also includes a postface by Jean-Christophe Bailly, one of Lacoue-Labarthe's most long-standing friends and interlocutors, and incorporates a number of translator's notes that will facilitate access to Lacoue-Labarthe's sometimes allusive writing. There is no better introduction to Lacoue-Labarthe's thought than Phrase, and no more compelling proof of the enduring significance of his thinking than this uniquely powerful text.
| | |
| --- | --- |
| ISBNs | 9781438471099, 1438471106, 9781438471105 |
| Language | English |