The Spy
A Tale of the Neutral Ground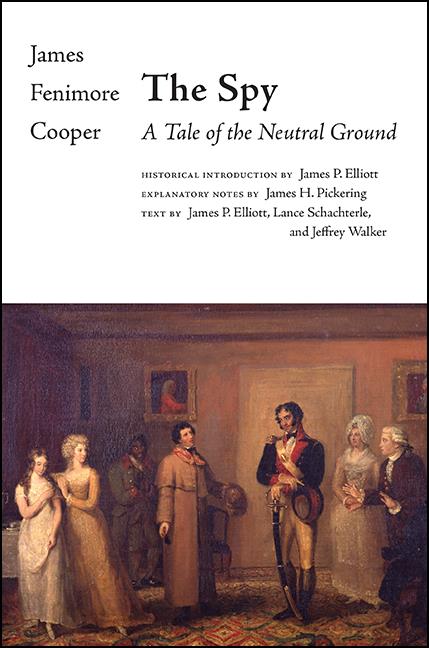 Additional Book Details
A year after his imitative first novel Precaution (1820) enjoyed only modest success, James Fenimore Cooper penned The Spy: A Tale of the Neutral Ground, a Revolutionary War narrative initiating the American historical romance, a novel and a genre that quickly put to rest the British critic Sydney Smith's 1820 quip, "In the four corners of the globe, who reads an American novel?" Beginning with The Spy, everyone did. The novel excited readers with the perilous adventures of the spy (Harvey Birch, the Yankee peddler) and his contact Mr. Harper (George Washington appearing incognito), both surfacing repeatedly in various disguises and engaged in counterespionage (very clearly a parallel to the John Andre and Benedict Arnold stories) with their guerilla nemeses, the loyalist Cow-Boys and renegade Skinners. The Spy revealed the clash of loyalties within families between public and private duty to country and to self, and served as a microcosm of the new American world, staged in the "neutral ground" between opposing forces in Westchester, New York.

William Gilmore Simms, Cooper's admirer and imitator, declared "The publication of The Spy … was an event," while Boston's North American Review agreed, "the American Revolution is an admirable basis, on which to found fictions of the highest order of romantic interest." This fresh tale generated good American press for the young Cooper, and so set the stage for Cooper's career-long contributions to the development of the American novel.

The editors provide a historical introduction identifying Cooper's sources, as well as detailed explanatory notes to enable readers fully to appreciate the geographical and historical settings in the novel. This scholarly edition, the eighteenth in "The Writings of James Fenimore Cooper," presents an accurate text drawing upon eight texts, from the first edition (with two editorially revised reprintings soon following to satisfy public demand) through the heavily revised Bentley Standard Novels edition (1831) and the more lightly revised Putnam Author's edition (1849). The editors provide a full scholarly apparatus discussing their editorial choices, and the edition has been approved by scholarly peers in the Committee for Scholarly Editions of the Modern Language Association.


| | |
| --- | --- |
| ISBNs | 9781438478968, 9781438478975, 1438478976 |
| Language | English |
| Number of Pages | 603 |