The Thoughtless Design of Everyday Things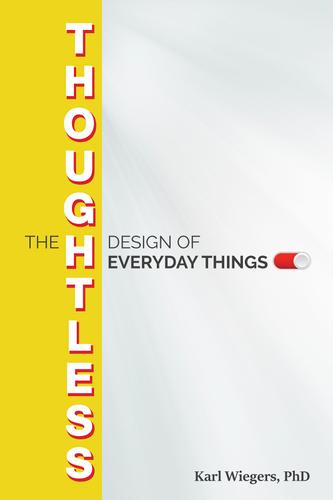 Already purchased in store?
Additional Book Details
Karl Wiegers has written a delightful and practical book that challenges how we think about designing products. He offers many tips regarding how to do thoughtful design and design mistakes to avoid, with loads of relatable real-world examples. Youll learn something about future product design and probably be more annoyed by those who havent.
Joy Beatty, Vice President at Seilevel
Have you ever noticed how many products appear to be designed by someone who has never used a product of that kind before? Nearly everyone has encountered websites, software apps, cars, appliances, and other products that made them wonder what the designers were thinking. The Thoughtless Design of Everyday Things presents more than 160 examples of products that violate nine fundamental design principles, along with suggestions for improving many of the flawed user interfaces and other design problems. These examples of thoughtless design reveal 70 specific lessons that designers ought to heed as they craft the user experience.
This book describes numerous specific practices for enhancing product usability through usage-centered design strategies. Youll also see nearly 50 products that exhibit particularly thoughtful designs, the kinds of products that surprise and delight users. Whether you're a designer, a product development manager, or a thoughtful and curious consumer, you'll find The Thoughtless Design of Everyday Things engaging, informative, and insightful.
Key Features:
--Includes over 160 physical products and software systems that frustrate, annoy, and disappoint consumers, along with ways to improve many of their deficient designs
--Features nine design principles that put the users convenience, success, and satisfaction with using the product at the forefront
--Contains 70 lessons that can guide designers to making more thoughtful choices for the customers benefit
--Describes why design is hard and how requirements provide the foundation for effective design
--Details the tradeoffs that designers must make among competing product quality characteristics and stakeholder priorities
--Covers 10 specific practices that designers can use to create better, more usable products
--WAV offers a downloadable quick-reference summary of the nine design principles and 70 design lessons, as well as numerous additional examples of both thoughtless and thoughtful design that illustrate and reinforce the design principlesavailable from the Web Added Value Download Resource Center at www.jrosspub.com
| | |
| --- | --- |
| ISBNs | 9781604278286, 9781604271782 |
| Language | English |