Music, Cosmology, and the Politics of Harmony in Early China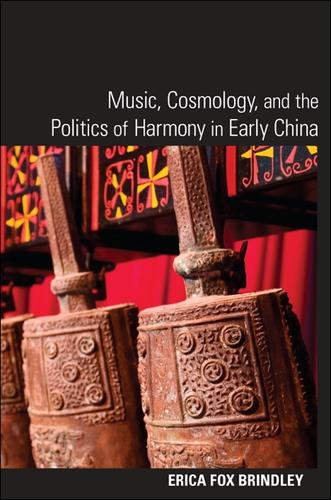 Already purchased in store?
Additional Book Details
2013 Reading Committee Accolade for a Specialist Publication in the Humanities, presented by the International Convention of Asia Scholars
Explores the religious, political, and cultural significance attributed to music in early China.
In early China, conceptions of music became important culturally and politically. This fascinating book examines a wide range of texts and discourse on music during this period (ca. 500100 BCE) in light of the rise of religious, protoscientific beliefs on the intrinsic harmony of the cosmos. By tracking how music began to take on cosmic and religious significance, Erica Fox Brindley shows how music was used as a tool for such enterprises as state unification and cultural imperialism. She also outlines how musical discourse accompanied the growth of an explicit psychology of the emotions, served as a fundamental medium for spiritual attunement with the cosmos, and was thought to have utility and potency in medicine. While discussions of music in state ritual or as an aesthetic and cultural practice abound, this book is unique in linking music to religious belief and demonstrating its convergences with key religious, political, and intellectual transformations in early China.
Music, Cosmology, and the Politics of Harmony in Early China is an informative and resourceful book, from which scholars who study early Chinese culture and politics have much to learn. Erica Fox Brindley has done a great job covering various topics (such as state order, cosmos, emotion, and medicine) in the context of music from the late Warring States period to the Han dynasty. The wide range of the book is a powerful indication of the fact that music is undoubtedly an important theme associated with a variety of topics in early China. Dao
...[an] excellent monograph on a topic of great interest, a vibrant and richly detailed study that masterfully shows us a China in which the individualnot our autonomous, enlightenment individual, but an individual nonethelessworks with what is given and creatively forges a self, a social world, and a vision of the cosmos ... a remarkable contribution to the study of early China, China studies, and in this particular case, our understanding of music. Philosophy East and West
Brindleys study of music in early China makes an important contribution to our understanding of this highly consequential art form ... By not limiting its analysis to a specific text or time, the book explores broad-ranging connections that might otherwise remain obscure if limited by now obsolete divisions such as Confucianism or Daoism. Journal of Chinese Religions
Taking full advantage of the plethora of newly excavated manuscripts, this book is a welcome addition to the study of early Chinese intellectual and cultural history ... [the book] is an important study that breaks new ground in a regrettably understudied area of Chinese thought. Journal of Asian Studies
This is an enormous contribution to the field in terms of addressing some early conceptions of music and its social, cultural, and political role in the developing political and cosmic system based on correlative thinking, or as the author puts it, a cosmology of mystical resonance. Joanne D. Birdwhistell, author of Mencius and Masculinities: Dynamics of Power, Morality, and Maternal Thinking
Erica Fox Brindley is Associate Professor of History, Asian Studies, and Religious Studies at the Pennsylvania State University. She is the author of Individualism in Early China: Human Agency and the Self in Thought and Politics.
| | |
| --- | --- |
| ISBNs | 9781438443157, 9781438443140 |
| Language | English |