An Anatomy of Louisiana Evidence Law
Code, Commentary, Cases and Problems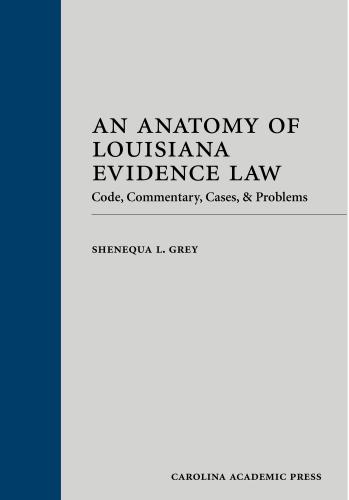 Already purchased in store?
Additional Book Details
An Anatomy of Louisiana Evidence Law is the first of its kind in Louisiana, representing a new trend in law school casebooks across the country. Much more than just a compilation of cases and notes, this book is a complete coursebook. It presents a detailed, thorough, and comprehensive examination of the law of evidence through the use of concise commentary and a number of pedagogical elements designed to both reinforce legal principles and to help bridge the ever-widening gap between law school theory and practice.
This exceptionally organized casebook covers the entire Louisiana Code of Evidence with a treatise-like explanation of the legal principles, written in a reader friendly style. The casebook includes both Louisiana cases and select U.S. Supreme Court cases directly affecting Louisiana law with discussion questions to assist students in understanding the cases and concepts in each section. Reinforced by a summary of key points, students are presented with a straightforward presentation of the law, designed to better equip them to more fully engage in classroom lectures and discussion. This style of presentation of the law is coupled with numerous opportunities for application with over 400 original problems and practical application exercises. Throughout the book are comparisons of major distinctions between the Louisiana Code of Evidence and the Federal Rules of Evidence and a discussion of public policy concerns underlying the evidentiary principles to serve as a guide to understanding how the law should be applied and to better understand many of the distinctions in the state and federal laws.