The Complete Guide to Requirements Management Using the REPAC Framework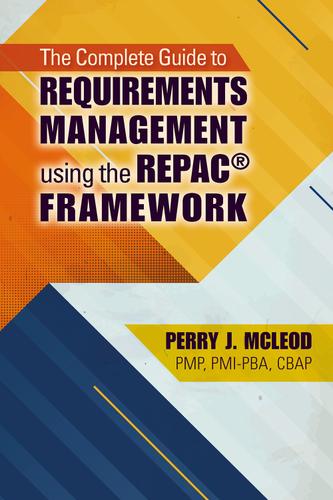 Already purchased in store?
Additional Book Details
Perry has done all the heavy lifting on our behalf. His REPAC Framework will no doubt revolutionize how we will conduct business analysis and project management for decades to come regardless of industry or approach applied.
--Jacqueline J.D. Young, Vice President, Senior BA Consultant, B.W. Young Consulting
It is usually easier to analyze specific requirements than to synthesize them into useable solutions. The REPAC Framework provides an answer to the universal need for understanding and managing requirements that are often disorganized and scattered among various documents and models.
--Richard Larson, Co-Principal, Founder, and President, Watermark Learning
Requirements represent the needs of stakeholders and satisfying these needs is the purpose of any project endeavor. Therefore, requirements are the most important ingredient to start any project. Critical to achieving project success is the effective management of requirements and the needs they represent. It doesn't matter whether project teams are using predictive waterfall methods or more adaptive agile approaches, the goal is the same regardless of industry.
The reasons why projects fail has not changed much over the years. Poor communication, inaccurate requirements, and the lack of effective requirements management continue to be at the top of the list, suggesting the need for an approach that will end this trend and deliver desired results consistently.
The Requirements Elicitation, Planning, Analysis, and Collaboration (REPAC) Framework is an entirely new approach to requirements management. It helps project teams center their efforts around what matters most to stakeholders their needs. Teams use REPAC to focus their attention, choose the correct perspective, and select the appropriate level of complexity necessary for effective collaboration to build and manage requirements right the first time, every time.
Key Features:
--Creates a mindset that determines what is required of the solution to satisfy the needs of stakeholders based on project constraints, problems, and objectives
--Provides a framework for developing plans, structuring conversations for maximum benefit, eliciting needs, and building and managing requirements
--Contains a visual guide to help business analysts, project teams, and stakeholders build requirements right the first time, allowing for repeatable measurable actions which can be tracked, traced, and reported
--Enables the BA and project team to create instances of collaborative elicitation, adaptive planning, and dimensional analysis, which can be used to drive workshops, interviews, and focus groups
--Furnishes an in-depth study of the REPAC Framework, including its focus, perspective, depth, paradigms, classifications, forms, and functions
--Introduces advanced techniques, which focus on causal analysis, cognitive reasoning, propositional logic, and communication theory
--Details how to build a successful requirements team and requirements team charter
--Explains how to use simple and complex equations to manage the effort and duration of requirements deliverables in predictive and adaptive environments
--Examines motivation theory, discourse, appreciative inquiry, collaborative negotiation, relationship management, emotional intelligence, and organizational and behavioral psychology within the context of learning to lead without authority
--Presents a running case study taken from a real-world project that used the REPAC method in the planning stages with stakeholders to facilitate learning and demonstrate real-world application
--WAV offers an advanced pre-project survey, a requirements activities management table, and a use case points analysis sheet--available from the Web Added Value Download Resource Center at www.jrosspub.com
About the Author
Perry McLeod, CBAP, PMP, PMI-PBA, is a senior management consultant, facilitator, and educator with over 25 years of experience in business analysis, workshops and facilitation, agile adoption, process re-engineering, project management, business and systems modeling, strategic alignment, mentoring, and training. Perrys professional experience includes delivering industry-recognized best practices and standards for some of North Americas most successful companies across many sectors.
Mr. McLeod has developed requirements elicitation and analysis models and has written courses for and/or taught at major universities and corporate clients, including the University of Toronto, York Universitys Schulich School of Business, TELUS, CIBC, Deloitte, John Hancock, and the governments of British Colombia, Ontario, and Canada.
| | |
| --- | --- |
| Sold By | J. Ross Publishing |
| ISBNs | 9781604278064, 9781604271355 |
| Language | English |