Public Infrastructure Management
Tracking Assets and Increasing System Resiliency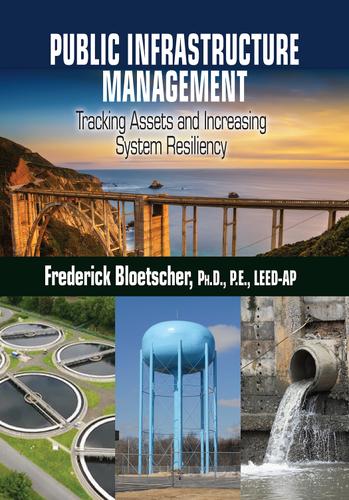 This title has been removed from sale.
Additional Book Details
"Dr. Bloetchser has created a comprehensive guide to public infrastructure asset management destined to become a useful tool well into the future for governmental entities and the consultants that support them.

Deborah Beatty, P.E., Chief Engineer, Tohopekaliga Water Authority, Kissimmee, FL


This book addresses the long-term maintenance, repair, and replacement of public infrastructure in a practical, cost effective mannersomething that is missing in the current literature. Fixing our public infrastructure is essential for public health and safety and is fast becoming a national priority. This title provides an overview of the major public works infrastructure systems (water, sanitary sewer, stormwater, roads, bridges, and railways), including components, operational goals, maintenance, areas where failure can occur, and ways to address failure. Risk and vulnerability to these systems are evaluated and guidance on how to create a condition index (assessment), given limited data, is provided. It also includes statistical methods to make an assessment more robust. Recommendations on budgeting strategies and capital planning are also discussed and designed to bring the risk, vulnerability, and condition indices together into a thorough decision-making process. It is a must read for anyone involved in public infrastructure management, including professional civil and environmental engineers, utility managers, local government managers and officials, urban and regional planners, and civil and environmental engineering students.



Key Features:


--Presents an overview of the components and maintenance needs of major public infrastructure systems

--Outlines practical methods to gather data to assess the condition of each infrastructure system and tools to generate relevant data

--Provides ways to evaluate risk and vulnerability in asset management and how to streamline the decision-making processes

--Discusses the funding and prioritization of capital improvement projects within infrastructure systems

--Expands on the use of work orders and repairs to improve information about each system

--Includes critical case studies from around the United States where public infrastructure has failed, followed by the lessons learned

--Features over 200 color figures and 75 tables to illustrate major points throughout the book, including the components of public water, sanitary sewer, and stormwater management systems

--WAV contains instructor materials for adopting professors, including a proposed syllabus for the course, 15 PowerPoint lectures covering chapters 2 through 16, end-of-chapter homework questions and answers, project ideas for the instructor, GIS data sets for students to do their own condition assessments, and sample final and midterm examsavailable from the Web Added ValueTM Download Resource Center at www.jrosspub.com



About the Author
Frederick Bloetscher, Ph.D., is currently a Professor of Civil, Environmental and Geomatics Engineering and Associate Dean for Undergraduate Studies and Community Outreach at Florida Atlantic University in Boca Raton, Florida. His research focus has been on urban infrastructure systems, particularly public water, stormwater, and sewer systems and their sustainability. Dr. Bloetscher teaches the capstone senior design sequence at FAU, plus classes in water/wastewater, construction, environmental engineering and modeling, hydraulics, and infrastructure management. He is also the author of Practical Concepts for Capstone Design Engineering.



Dr. Bloetscher received his bachelors degree in civil engineering from the University of Cincinnati and earned his Master of Public Administration Degree from the University of North Carolina at Chapel Hill. His Ph.D. is in civil, environmental, and architectural engineering from the University of Miami. His experience prior to academia is helpful to his ongoing research and outreach efforts. He was a city manager for two communities in North Carolina that were undergoing significant infrastructure improvements. In Florida, he was a utility director and deputy director for several large water and sewer systems that included groundwater, aquifer storage, reclaimed water systems, wastewater plants, and miles of piping that needed to be maintained. "