AutoCAD LT 2016 for Designers, 11th Edition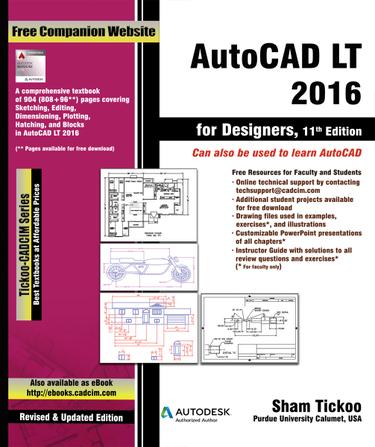 Already purchased in store?
Additional Book Details
AutoCAD LT 2016 for Designers textbook explores all the tools, commands, and options of AutoCAD LT 2016. Additionally, it covers the sketching, editing, annotating, dimensioning, hatching, and plotting techniques that will help users in developing the drafting skills. Updated to the latest release of AutoCAD LT, the textbook enables professionals to create and share design information faster than ever. The textbook takes the users across a wide spectrum of engineering solutions through progressive examples, numerous illustrations, and relevant exercises, thereby making it an ideal guide for both the novice and the advanced users.
Some of the Salient Features of this textbook are as follows:
Consists of 20 chapters organized in pedagogical sequence.
Detailed description of all tools, commands, and concepts of AutoCAD LT 2016.
Examples explaining the function or usage of the tools and commands.
Summary on the first page of each chapter of the topics covered in the chapter.
Hundreds of illustrations and a comprehensive coverage of AutoCAD LT 2016 concepts and techniques.
Step-by-step instructions to guide the users through the learning process.
Additional information provided throughout the book in the form of notes and tips.
Self-Evaluation Tests and Review Questions provided at the end of each chapter to help users assess their knowledge.
Free Teaching and Learning Resources:
CADCIM Technologies provides the following free teaching and learning resources with this textbook:
Technical support by contacting techsupport@cadcim.com
Part files used in tutorials, exercises (For Faculty only), and illustrations
Customizable PowerPoint Presentations of all chapters (For Faculty only)
Instructor Guide with solution to all review questions and exercisesFor Faculty only)
Additional learning resources at https://allaboutcadcam.blogspot.com and youtube.com/cadcimtech
Brief Table of Contents
Chapter 1: Introduction to AutoCAD LT
Chapter 2: Getting Started with AutoCAD LT
Chapter 3: Getting Starting with Advanced Sketching
Chapter 4: Working with Drawing Aids
Chapter 5: Editing Sketched Objects-I
Chapter 6: Editing Sketched Objects-II
Chapter 7: Creating Text and Tables
Chapter 8: Basic Dimensioning, Geometric Dimensioning, and Tolerancing
Chapter 9: Editing Dimensions
Chapter 10: Dimension Styles, Multileader Styles, and System Variables
Chapter 11: Hatching Drawings
Chapter 12: Model Space Viewports, Paper Space Viewports, and Layouts
Chapter 13: Plotting Drawings
Chapter 14: Template Drawings
Chapter 15: Working with Blocks
Chapter 16: Defining Block Attributes
Chapter 17: Understanding External References
Chapter 18: Working with Advanced Drawing Options
Chapter 19: Grouping and Advanced Editing of Sketched Objects
Chapter 20: Working with Data Exchange and Object Linking and Embedding
Index