Achieve CAPM Exam Success, 3rd Edition
A Concise Study Guide and Desk Reference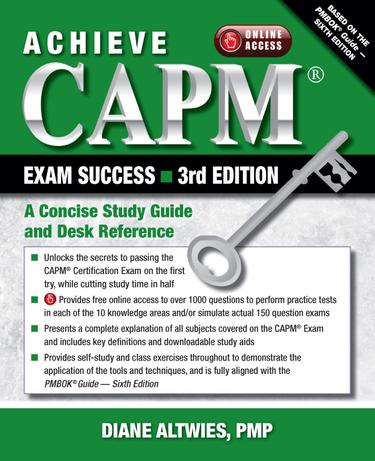 Already purchased in store?
Additional Book Details
The PMI project management certifications are the world's gold standard. And, for those in the profession who have not yet accumulated the thousands of hours required for the PMP, the CAPM is an invaluable stepping stonea clear indication of commitment and knowledge. Getting certified starts with successfully passing the CAPM exam and we have used this study guide with great success in our certification boot camps. Highly recommended!
JP Peterson, VP Professional Development, PMI Tampa Bay Chapter
Project management, as we know it, is evolving rapidly, partly due to the proliferation of a growing set of communications platforms and devices. Earning your CAPM certification helps people work faster and more efficiently than ever before. This text is a must read to ensure a highly adept, well-trained project workforcea key component of successful organizational delivery and growth.
Steven West, CEO, Project Insight
About the Item
Used in conjunction with PMIs PMBOK Guide Sixth Edition (2017), this concise study guide presents all the fundamental knowledge, concepts, exercises, practice questions, and simulated exams needed to prepare for and successfully pass the CAPM exam on your first try. However, this book is much more than a study guide. It is a valuable desk reference that project team members can use to improve their effectiveness and a good resource for those considering a career in project management.
Key Features:
--Contains a pre-assessment test to help you develop a focused study plan and manage your time effectively and a post-assessment test to evaluate your readiness for the actual CAPM exam
--Uses a sample project case study throughout to demonstrate how to apply tools and techniques covered in the PMBOK Guide and exercises to further develop your knowledge and competency
--Presents key definitions and tips to improve your understanding, and sample CAPM exam questions and answers at the end of each chapter
--WAV offers a full glossary, an answer key to the pre- and post-assessment tests, a process map study guide, a tool and technique study aid, and a CAPM exam preparation guideavailable from the Web Added ValueTM Download Resource Center at www.jrosspub.com
About the Author:
Diane Altwies, PMP, has been managing software development projects for nearly 30 years as a program or project manager in the insurance, financial services, and healthcare industries. Diane is the CEO of Core Performance Concepts, Inc, a leading training, curriculum, and services provider. She continues to teach and consult for organizations on various program management, project management, and business analysis topics and develops advanced courseware topics for project managers. Diane is a frequent speaker at professional meetings and symposia across the country. She is a Fellow of PMI Orange County and has an MBA in Finance and Marketing and a BA in Production Management, both from the University of South Florida. In addition to this book, she has co-authored two others: Achieve PMP Exam Success: A Concise Study Guide for the Busy Project Manager and Program Management Professional: A Certification Study Guide with Best Practices for Maximizing Business Results.